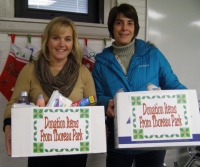 As we settle into the holidays, one of the great gifts of our work is the opportunity to witness the spirit of the season in our schools. Musical concerts, art displays, classroom showcases-it's a joy to witness children at this magical time in their lives.
But for many people, the holidays are also a difficult time. It never ceases to amaze me how our students rise to the occasion to help others, especially at this time of year. Fund raisers, volunteerism, and donations abound in our classrooms.
I also want to shine a spotlight on the good work of The Parma Area Family Collaborative (The Collab) which we are so fortunate to have here in our communities. With a small but mighty staff, The Collab serves hundreds of families by focusing on the well-being, safety and academic success of the children in our communities.
Here are just a few of their wonderful programs making a difference in the lives of the families we serve:
Parenting Partners: This 8-week parent leadership program supports strong student achievement and a positive community culture. The first session comes to a close this week, and begins again on February 25th.
Coat Drive: Dozens of warm, gently used coats have been distributed to children in need already this school year, and will continue through Spring.
Home Liaisons: These busy social workers are an important link in the PCSD. By working directly with families and our schools, they provide support where it is needed and work to remove barriers to student success.
Giving Tree: Through the support of many philanthropic individuals and businesses, many, many children will be receiving a holiday gift this winter.
Holiday Events: The Collab staff works tirelessly to share a multitude of holiday traditions with those new to this area, as well as for families in crisis.
Mobile Food Pantry: More families than you may realize live with food insecurity; this is markedly heightened when school is not in session. On the second Thursday of every month individuals may bring their own bags to The Collab from 3:00-5:00pm for a selection of food items. This Thursday is the final for the year; it will resume in January.
It's an honor to be a part of a District which believes in supporting families at this level, so that their children can be successful in school, and in life. If you know a family who could benefit from any of the support services above, please make them aware of The Parma Area Family Collaborative, located at 11212 Snow Road in Parma.
Read Full Story
Volume 6, Issue 1, Posted 2:47 PM, 12.10.2013