PhotoBlogs by Jack Marschall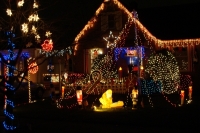 Parma Christmas Homes
(2 Photos)
These are pictures of the winning Christmas decorated houses in Parma – nine pictures for the nine wards.
The first two:
Ward 1 – 7915 Newport Ave.
Ward 2 – 5711 Brownfield Dr.
The annual contest is sponsored by Proud of Parma. The Holiday Lighting Committee recently drove through all nine wards to view homes nominated by neighbors or friends who called Parma City Hall.
The winners will be presented goody Christmas bags as a small token of appreciation for their colorful Christmas spirit.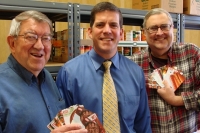 Helping the Helpers
(1 Photos)
Parma Mayor Dean DePiero presents Parma Hunger Center Co-Directors Arch Stevenson and Dale Kraemer with Giant Eagle gift cards.
The cards were donated by the Parma Law Department totaling $1,250.00. The money was collected through the city's Juvenile Diversion and Traffic Diversion Programs in which offenders can choose to donate to a local charity as their community service requirement in lieu of actually performing community service hours.
The Parma Hunger Center has seen a dramatic 40% jump in the number of individuals and families being served in Parma, Parma Heights, Brooklyn Heights and Seven Hills. So far in 2009, The Hunger Center has served 9,303 individuals and 2,880 families.
The Parma Hunger Center is located at Parma Lutheran Church, 5280 Broadview Road. The church has been serving local folks in need for more than 40 years. They can be contacted at 216-351-6376.
Back to Observer Photoblogs