Seven Months In Seven Hills: Trafis Talks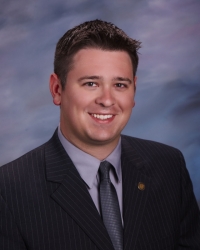 In a relatively short period of time, Seven Hills Council-at-Large Matt Trafis' winning demeanor, superb listening skills and professionalism have been put to the test -- and he's passing with flying colors. Assertive, unwilling to fall prey to petty politics and ever-ready to extend a warm welcome to anyone seeking his counsel, Trafis is one to watch.
His balanced approach to politics likely derives from his traditional yet innovative experiences and outlook. Growing up, Matt watched his father run the city; now, he's the youngest council member, and has some of the freshest ideas. Until such time as council's group-think mentality comes to an end, this writer wishes to shine some light on Mr. Trafis' thoughts and ideas . . .
Q: Councilman Trafis, what is the single most pressing issue you believe Seven Hills faces? How has your opinion changed since becoming councilman-at-large?
A: The most pressing issue facing Seven Hills in my opinion has not changed since I began as a new member of City Council last December. Without question, the City's finances are the most important issue. The past five or so years, Seven Hills faced record deficits due to new jobs being created along with other frivolous spending. The spending spree is over and our City is on a good track to correct the budget issues. Significantly more cost cutting measures are needed, but we have taken a step in the right direction.
Q: What one thing would you most like to see change in the City of Seven Hills? Likewise, what one thing would you never want to change?
A: The thing that I would most like to see change in Seven Hills is the lack of infrastructure repairs. I view local government rather simplistically. Residents want, and frankly deserve, certain basic services. They want their garbage picked up, the streets plowed in the winter, recreation opportunities, and their streets and sewers maintained to an acceptable level, etc. Due to the amount of money the City spent over the past five to six years, major street repair is simply not possible at this point in time. It will be another two or three years before we can even begin thinking about a road replacement program. This is both unfortunate and not acceptable. As far as what I would not want to see changed, is the quality of people that live in Seven Hills. Our City truly is a picturesque community made up of warm and generous people. Many of our residents are involved in community functions and organizations. Our residents are what make our community great.
Q: There have been some positive changes, including internal restructuring at our Seven Hills Recreation Center. In what direction do you see the Center going?
A: First, it is important to understand the history of the Recreation Center. The Rec Center is the greatest asset our City has. People from other cities are envious that we have this building and they want to join. Over 25 percent of our residents utilize the building and another two thousand plus non-residents also utilize it.
During the planning phases of the Rec Center, the City's Finance Director, City Council, the Administration, Bond Counsel and the Citizens Committee agreed that we could have a projected deficit annually of $200,000 to $250,000. Unfortunately, due to the facility not being run properly, the deficit reached $457,356 in 2007;$577,729 in 2008; $422,863 in 2009; and $388,551 in 2010. The research behind the projected deficit of $200,000 to $250,000 was presented to our residents, who overwhelmingly voted to build the Rec Center. 3,874 people voted in favor and 2,851 people voted against it. This was clearly a mandate.
City Council, with the recommendation from our Mayor, recently hired a recreation consultant who has a track record of making rec centers more efficient. Six of our Council members voted for it, and one against. Progress has been made and I am looking forward to a full report on the progress. As far as internal restructuring, the assistant director of the building was promoted to director after the former director was let go. Given the significant annual deficits, a change needed to be made and I am glad it was. I am hopeful that the personnel changes will prove fruitful.
Q: How do you feel about serving on council? More specifically, how do you feel treated by other council members, etc.?
A: Serving Seven Hills as a member of Council has been a great experience and an honor. My favorite part of the job is interacting with residents who contact me with questions or issues that need to be resolved. Although I may not always have the answer that a resident may want to hear, I try my best to find a solution for them and to be honest, truthful, and timely.
Everyone on Council has their own unique personality and with that comes seven different opinions. Serving on this Council certainly has not been a walk in the park. The most challenging aspect of the job is to present ideas to my colleagues without being yelled at, criticized, called names, or at times, sworn at. The pettiness and bickering is childish and has no place at City Hall.
Q: In what capacity/capacities do you see yourself serving Seven Hills down the line?
A: I truly enjoy serving as a Councilman-at-Large. I have grown up following and participating in Seven Hills my entire life and am learning even more as a Councilman. I will run for a second term next year. Down the road, who knows? I don't know what the future will bring. Maybe I will explore a different opportunity to serve our City. Right now, I am very happy and grateful to be doing what I am.
Q: What is the single biggest problem you have with the status quo on council? Where is an infusion of innovation most needed?
A: The status quo can be a dangerous thing, which was the reason for the financial crisis we face today. Different ideas and thought processes are good. Local governments need checks and balances between Council and the Administration. We need to do things differently from the past because as we all see now, it didn't work. Simply because a member of Council proposes an idea that someone does not like shouldn't create animosity and contention. It should be something to work off of to steer the City in the right direction. Seven Hills is missing that component right now. I certainly am not the status quo.
Q: Nationwide, it seems, party lines are becoming less relevant. Do you see this at the municipal level?
A: No. I am in the minority on this Council and often the lone ranger. It just so happens that all of my colleagues are of a different political party. I don't think this is a coincidence.
Q: How do you feel about Seven Hills' deer populations? Do you believe, as so many other community leaders have claimed, that "we must join forces on a regional level," meaning, we must implement a lethal program?
A: There are many schools of thought on the deer population. Obviously, there seem to be a lot of deer in our area. I do not believe that implementing a lethal program would be the proper way to attempt to control the deer population, for a number of reasons. If a serious discussion came before Council on this matter, I would advocate for a humane method that is safe for our residents as well.
Q: Speaking of regional forces, what is your opinion regarding regionalism? Is there any discussion afoot regarding Seven Hills joining safety and other services with any other communities?
A: Sharing services with neighboring communities is a logical way for Seven Hills and others to save money on services. It is important for us to keep our own identity, but in certain instances collaboration with others is great. One item that has been briefly discussed is looking for a way to coordinate our human resources with another governmental organization. I hope that we have more serious talks on this and other ways to share resources in the near future.
Q: Do you have any final thoughts for our readers?
A: It is very important to me for government to be open, transparent and easy to access for our residents so they have an opportunity to know what is happening at City Hall. Since my first meeting as a Councilman, I have been recording every minute of every meeting. The audio of the Committee, Caucus, and Council meetings can be accessed on my website at www.trafis.com. If you are curious about what your elected officials are doing, please take a listen! Finally, and as always, if any resident has a question or issue, please do not hesitate to contact me at 216-410-4062 or matt@trafis.com.
lucy mckernan
Animals first.
Read More on Seven Hills
Volume 4, Issue 7, Posted 6:17 PM, 07.01.2012