Parma Experiencing Investment In Commerical And Industrial Sectors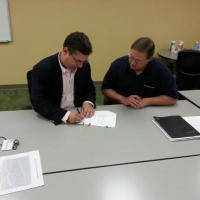 Parma Mayor Tim DeGeeter said the City is working with manufacturers and small businesses to expand and grow jobs in Parma. "Keeping and creating jobs is a top priority for my administration, and we're working hard with our manufacturers and small businesses to help spur economic growth in Parma," he said. So far, efforts are successful.
Mayesh Wholesale Florist, Inc. has purchased the vacant Great Lakes Tool facility at 12631 Plaza Drive, bringing 12 jobs to Parma, along with the expectation of expansion and new hiring. This purchase marks the third and final purchase of previously vacant manufacturing space on Plaza Drive over the last two years.
Currently, there are no vacant buildings zoned for manufacturing on Plaza, Corporate or Venture Drives listed for sale. Space for lease there is also very limited.
OSG/Sterling Die purchased and renovated the former Earnest Products building at 12502 Plaza, and Absolute Haitian purchased and renovated the former Clamco building at 12900 Plaza. Parma Mayor Tim DeGeeter and OSG/Sterling Die Vice President Ed Segula signed a new economic development agreement recently, granting OSG/Sterling Die a 46% rebate on payroll taxes paid to the city for the next 12 years.
This agreement replaces a 10-year, 50% deal that brought OSG/Sterling Die to Parma in 2001. After 10 years of leasing space on Venture Drive, OSG/Sterling Die recently invested millions in the purchase and renovation of its new home on Plaza Drive.
DeGeeter is very pleased with these Parma manufacturing developments. "We are thrilled with Mayesh's investment," he said. "Each of these purchases demonstrates a long-term commitment that we will do all in our power to foster and build upon. Our administration values public/private partnerships and job creation."
In its first 10 years in Parma, Sterling Die's payroll has increased by 40%. Since November of 2011, Sterling Die has hired 11 additional employees and is currently seeking additional qualified employees. The new agreement begins with the property tax year starting Nov. 1, 2011 and with a base of 62 jobs and $2,715,596 in payroll.
"Based on the 11 new hires since 11/1/2011, Sterling Die could very well exceed $3,000,000 in payroll, which would trigger an automatic increase and extension of the original terms of the contract - a maximum 50% for 15 years," said DeGeeter. "It's a testament to Sterling's success that it met its 12-year hiring goal in such a short time, and it's still looking to add people."
The City of Parma utilizes a uniform sliding scale for payroll tax incentives ranging from a low of 15% for 5 years based on $1,000,000 in payroll to 50% for 15 years on payroll in excess of $3,000,000.
"We feel this is a fair and generous incentive for both the employer and taxpayer," DeGeeter said. "We are rebating money already paid to the city as opposed to property tax abatement deals that could cost the school district money should the company fail."
OSG/Sterling Die is the largest manufacturer of threaded rolling dies in the United States and services internationally to over 20 countries.
City Council recently approved Economic Development Grant Awards to Melin Tool, OSG/Sterling Die, Eaton Corporation, CopperLogic Inc., and will soon review a new agreement for Marlin Manufacturing. Each agreement shares a percentage of payroll taxes paid back to the company for its reinvestment into job creation and expansion.
"Our administration will continue to partner with our existing companies as we look to find ways to assist our manufacturers with expansion and job creation," Mayor DeGeeter added.
There are other signs that the City's efforts to assist small business with expansion are bearing fruit. In 2011, Parma demolished residential structures at 7404 Snow Road and 8213 Greenlawn to make way for much needed parking and building expansion. S-N-H Properties recently gained approval from the City Planning Commission to expand the parking lot serving its retail center at 5772-96 Ridge Road, while Chuppa's Marketplace at 5640 Pearl Road will look to expand its parking and retail structure.
"Addressing the parking needs of our small businesses is paramount," Mayor DeGeeter said. "Instead of having successful businesses outgrow their space and move, we will do everything possible to implement projects like this to make things happen and keep those jobs and those storefronts active and profitable."
-30-
Jeannie Roberts
Communications Director for the City of Parma
Read More on
Volume 4, Issue 11, Posted 4:06 PM, 11.02.2012