Parma Heights To Hold 9/11 Memorial Dedication Ceremony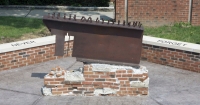 Ever since the city received a steel beam from the World Trade Center two years ago, the community has been coming together to fund, design, and build a fitting memorial. Now the work has been completed and the Dedication Ceremony for the Parma Heights 9/11 Memorial has been set for Sunday, August 25, 2013, at 5:00 p.m. in the Greenbrier Commons. Our memorial has been an ongoing tribute to those who lost their lives on that fatal day. This is truly a community effort, reflecting the monetary donations of residents, businesses, and employees, and the hard work of many local union members.
The Parma Heights Fire Department's administration and Firefighters Local 1690 led the way from the acquisition of the steel beam through the completion of the memorial, located in front of the Fire Station on Pearl Road in the Greenbrier Commons.The monument was built with labor donated by Iron Workers Local 17, Bricklayers Local 5, Electricians Local 38, Laborers Local 310 and Painters Local 707. Landscape Architect Ray Priest of R.J. Priest Associates, Inc. also donated his design work for the project and Eagle Scout David Polak helped landscape the area as part of his Eagle Scout service project.
I ask all our residents and members of the surrounding communities to join us at the dedication ceremony as we remember and honor the victims and heroes of 9/11.
Read More on Parma Heights
Volume 5, Issue 9, Posted 12:26 PM, 08.23.2013