Connecting Parma Heights And Cleveland Metroparks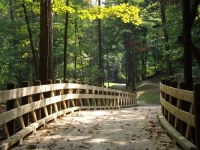 The public and media are invited to the Grand Opening of the Parma Heights–Big Creek Connector Trail linking the Greenbrier Commons to the Cleveland Metroparks Big Creek Reservation trail system on Wednesday, October 16 at 1:30 p.m. The Grand Opening ceremony featuring as speakers myself and Brian Zimmerman, CEO Cleveland Metroparks, will be held at the entrance to the trail located behind the N.E.O. Soccer Building in the Greenbrier Commons, 6184 Pearl Road in Parma Heights.
"This joint project between Cleveland Metroparks and the City of Parma Heights was accomplished through collaborative efforts between the Ohio Department of Natural Resources (ODNR), the Clean Ohio Trail Fund/Recreational Trails Program, the Cuyahoga County Department of Development, Friends of Big Creek and the West Creek Preservation Committee," stated Brian Zimmerman, Cleveland Metroparks CEO.
The connector trail provides a convenient avenue to the Big Creek Reservation for our residents while opening the Greenbrier Commons at the heart of our city and our business district to the thousands of people who use Big Creek Reservation.
The new 1,000-foot-long trail and 116-foot bridge spanning Big Creek can be accessed through the existing all-purpose trail in Big Creek Reservation and from two locations in the Greenbrier Commons: the City's fitness trail by the entrance to the Cassidy Theater and via the new trail head behind the N.E.O Soccer facility. Funded entirely by grants, the trail features a unique stabilized aggregate surface composed of recycled brick and concrete. The connector offers new opportunities for a wide range of activities including biking, in-line skating, hiking, walking, jogging, nature discovery, wildlife observation, nature photography and cross-country skiing.
Read More on Parma Heights
Volume 5, Issue 11, Posted 11:51 AM, 10.09.2013