K-9, Rocky, Retires From Seven Hills Police Department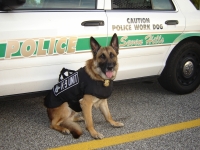 The Seven Hills Police Department is announcing the retirement of Police K9 Rocky. Rocky began his training to be a police dog in November 2004 along with his handler Sergeant Daniel Kappus. The two began working the road together in January 2005 and have worked with each other ever since. In the nine years Rocky served as a police dog, he assisted the Department in drug searches, tracking for both missing people and suspects along with building and area searches. In addition to his assistance in criminal matters, Rocky spent much of this time at public relations events, school presentations and also helped out at Safety Town of Parma for many years.
Recently after reaching ten years of age, Rocky began to experience health issues that affected his ability to safely perform his duties as a police dog. Rocky is now living a happy retirement at home with Sergeant Kappus and his family.
Read More on Seven Hills
Volume 5, Issue 12, Posted 9:38 AM, 12.03.2013