Robert Oravec Receives The Order Of Towman Award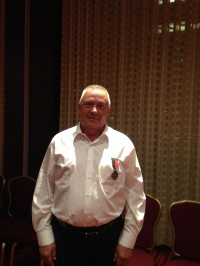 At the 26th annual American Towman Exposition in Baltimore, Maryland, Robert Oravec received the Order of Towman Award the night of November 22nd. The Order of Towman is awarded to tow truck drivers for their professionalism and dedication to the towing trade and the community they serve. The Police Chief of Parma Heights, Daniel Teel, nominated Robert Oravec in writing for showing "extreme dedication to the towing trade and the community." By Robert accepting The Order, he joined an elite legion of dedicated towing and recovery professionals from around the nation.
The award to Robert meant that he is one of the few, elite towman who have been recognized by the community for their hard work. The award is an honor for him and he is proud that Police Chief Daniel Teel honored him with such kind words and saw his dedication to the trade. He will continue to serve his community with the same dedication that he has for his whole towing career.
Robert is the towing manager at Sirl's Automotive and has worked there for 37 years. This year, the company celebrated its 100th anniversary and is the second oldest towing company in the United States. The company is proud that one of its crew was awarded with such a high honor and is now among one of the select few to have been awarded The Order.
Read More on News
Volume 6, Issue 12, Posted 10:51 AM, 12.02.2014