Update: Parma Heights Historical Society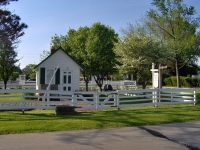 Many improvements have been implemented since the formation of the newly organized Parma Heights Historical Society in 2008. The following is the latest. There are 8 active members that reside in Parma Heights, although this is not a requirement to join the group. Anyone is welcome to join us.
Jim Griffith was instrumental in organizing the startup of The Parma Heights Historical Society, as the original Historical Society of Parma Heights had been disbanded for 8 years. Because of his busy schedule, he left the group and Joe Reeves was elected President of the Historical Society in 2012. We thank Jim for all of his contributions and hope that he may rejoin the group in the near future as his schedule permits.
Joe Reeves, President, helps as needed with all projects that we undertake. We have monthly meetings that Joe conducts. He keeps the City informed as to our various projects. Joe is a lifelong resident of Parma Heights and has a vast knowledge of the city.
At the beginning of this year Loretta Newlen, Secretary, of the Parma Heights Historical Society, introduced an idea to have informal meetings with people from The Parma Heights Senior Center to discuss our local History. Loretta held the first meeting, which proved to be informative. The Historical Society learned a lot as well as the residents.
All subsequent meetings have been held by Parma Heights Historical Society members, Aldo Melaragno, Treasurer, and Fred Koch, Antique and Unusual Items Member. Both of these men are also members of the Parma Heights Garden Club. It is amazing and very interesting what they have learned from the seniors. These meetings have been very beneficial to the Historical Society and the seniors. More importantly, Aldo and Fred have informed people about who we are and what we are doing to preserve our community's History. These guys are awesome, as the seniors will attest to. They didn't even have to pay me to say this, although they do pay the seniors off with donuts. HA! HA! No wonder they love 'em! HA! HA! Maybe the seniors meant that the donuts were awesome. HA! HA!
Walter Barth, Vice President, has been busy mapping locations of past businesses of Parma Heights along with designing and selling Parma Heights tee shirts, sweat shirts, and hoodies. Walter is a retired Parma Heights Police Officer. He knows every square inch of Parma Heights.
Michael Andrysco, Member is continuously posting fascinating information on Facebook for our Public Group which is titled I was a Parma Heights kid. Jim Griffith was the originator of this group. It has proven to be very popular. Take a look what Mike has posted. You will like what you see. Mike investigates areas and locations of old structures, sawmills, and stone quarries that were here over 180 years ago.
Parma Heights Historical Society Ken Lavelle, Historian, and I have been writing monthly articles of Historical nature to the Parma Observer since last summer. I am also a Research Member of the Historical Society. Ken Lavelle's expertise with computers and credentials are too numerous to mention. He probably knows more about Parma Heights History than all of us together. He is a walking history book. In fact, he has written a walking History tour of Parma Heights in 2011. Daniel P. McCarthy is the Publisher for the Parma Observer. He has attended several of our meetings and has given full support along with the Editor-in-Chief, Stefan P. Stefaniuk. We encourage anyone that is interested in learning more details of our local History to visit us at the Parma Heights Library on the 3rd Wednesday of each month at 7:00pm. You may also call the Parma Heights Historical Society President, Joe Reeves, at 216-870-4864. We look forward to seeing you!
Bob Stilwell
Retired Manufacturing Supervisor since 2008. I'm a member of the American Legion Post 703 In Parma,Ohio. Active Member of the Parma Heights Historical Society. I write Memorials for an internet group called "Find A Grave"
Read More on Parma Heights
Volume 7, Issue 7, Posted 12:34 AM, 07.01.2015