Marathoner, Cancer Survivor: Don't Pass Up Annual Check-up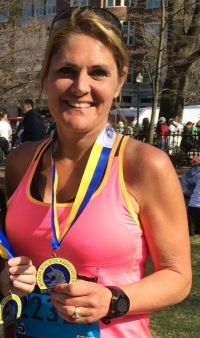 Never underestimate the importance of a routine physical.
Terri Schoenholz was just 50 when, as the year came to a close, she realized she had not yet had her annual physical. During the routine check-up, her primary care physician detected a suspicious mass in her neck and immediately referred her to a specialist.
The 25-time marathon runner was stopped in her tracks by the diagnosis: thyroid cancer.
Her husband was stunned and her grown sons were shaken, but she was focused on the finish line. Two days before Christmas, the Avon Lake resident underwent a thyroidectomy at University Hospitals Seidman Cancer Center and followed up at the satellite location at St. John Medical Center for radiation therapy.
"There are certain things a patient may not check or be aware of monitoring, or even a minor abnormality that may turn out to be significant," says Family Practice physician Vincent Sustersic, DO, who recommends an annual check-up for everyone 50 and older. Those under 50 without family history or regular health problems should see a physician at least every couple years.
A primary care physician will run a blood test, follow up on family history – or check a thyroid gland – and know exactly what to watch for that could go unnoticed.
"I felt so healthy, but I wouldn't have known I had cancer had I not gone to the doctor," said Schoenholz, who suspended training for her fifth Boston Marathon in April to make sure she had fully recovered and regained her strength. "People shouldn't put off those well visits."
Nine months after her cancer surgery, Schoenholz was ready to run in the Akron Marathon, then headed to Columbus for another 26.2-mile run in October. Her official times were strong enough to qualify for the highly competitve Boston and New York marathons.
At the starting line for both Ohio marathons, she was overcome with emotion, realizing that fateful find less than a year ago brought her back to another beginning.
And she's not about to miss her next check-up.
CJ Sheppard
Senior Communications Strategist, University Hospitals Parma Medical Center
Read More on Parma General Hospital
Volume 7, Issue 12, Posted 9:15 AM, 12.01.2015