Pennie The Pickle, A Holiday Tradition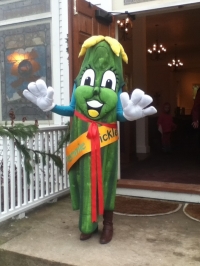 Patients at University Hospitals Parma Medical Center and UH Wellpointe Health Center in Broadview Heights may know Tony Marini as the kind-hearted nuclear medicine and MRI technologist who calms fears during difficult days. Staff may know him as the guy who runs the popular basket raffle to fund a scholarship for students seeking a career in his chosen profession. Yet others know Marini as the author of Pennie, the Christmas Pickle, a fun-filled holiday book about the little-known tradition of hiding the pickle ornament in the Christmas tree. Through basket raffles and generous personal and private donations, Marini has raised enough money in just four years to create the endowed UH Parma Radiology Educational Scholarship Fund. He expects to award the first scholarships in 2016 to college students pursuing radiology careers.
"I wanted to give back to the world, and I knew that education was a place where I could make a difference," said Marini, who has worked in radiology for 25 years, including nearly 15 years with UH Parma Medical Center. "If we all do just a little bit more, the world can be a great place."Marini's knack for highlighting unique qualities is evident in his colorfully illustrated book about a cucumber's magical path to becoming the Christmas Pickle. The 32-page hardboard book, which is published along with an original jingle on CD, is for sale in UH Parma's Gift Shop, as well as online at Barnes & Noble and in shops around Cleveland. And Marini will keep looking for innovative ways to grow the scholarship fund, which he would like to see reach at least $100,000 in his lifetime. To donate, contact the Parma Hospital Health Care Foundation at 440-743-4280.
CJ Sheppard
Senior Communications Strategist, University Hospitals Parma Medical Center
Read More on Parma General Hospital
Volume 7, Issue 12, Posted 9:15 AM, 12.01.2015