Trees Provide Many Benefits: Financial, Environmental, And More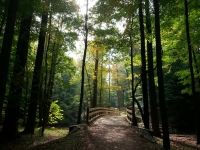 Whether we are looking to improve a city's commercial districts or residential streets, when it comes to neighborhood walkability, it is difficult to overstate the importance of a healthy and abundant tree canopy. In fact, it may be one the best investments a city can make. Just ask Jeff Speck, a city planner committed to smart growth and sustainable design. In his book Walkable City, he states, "Because they have such a powerful impact on walkability, street trees have been associated with significant improvements in both property values and retail viability. Since this enhancement translates directly into increased local tax revenue, it could be considered financially irresponsible for a community to not invest heavily in trees." Not surprisingly, he also observed that while rich and safe streets had good tree cover, poor and dangerous streets did not.
I believe that one way for a city to take some meaningful action in recognizing the importance and value of trees is to pursue, achieve, and maintain a Tree City status. At the very least, it represents a symbolic step in the right direction. According to the Arbor Day Foundation, this is done by meeting four core standards of sound urban forestry management: maintaining a tree board or department, having a community tree ordinance (Parma seems to have one), spending at least $2 per capita on urban forestry, and celebrating Arbor Day. A complete list of Tree Cities in Ohio at ArborDay.org reveals which cities have invested in trees and the length of time they have maintained their Tree City status.
There are numerous benefits of trees to a community. In addition to enhancing aesthetics, trees provide shade, reduce temperatures in hot weather (15-35% less A/C required), absorb rainwater (25% additional tree cover reduces stormwater by 10%), absorb carbon emissions, provide UV protection, and can limit the effects of wind. Trees have also been shown to increase property values up to 10%; increase income streams to shops on tree-lined streets up to 12%; and provide traffic calming effects benefiting drivers, pedestrians, and cyclists. A recent study of healthy street trees in Portland, OR, revealed a 12:1 payoff, adding significantly to property tax revenues.
Again, a healthy and abundant tree canopy may be one of the best investments a city can make. City leaders in Parma seemed to acknowledge this truth when they drafted a comprehensive Tree Plan in the 1960s. Civic-minded groups, such as the Parma Jaycees, also appreciated the value of trees and actively offered to plant trees for residents. Somewhere along the way, the enthusiastic tree planting initiatives faded away and the very real benefits that would have been derived from those initiatives have been lost.
Maybe it is time for us to renew these initiatives within our community. As they say, there's no time like the present.
This opinion piece was originally published at SuburbanColossus.com, a blog focused on life in the garden city of Parma, Ohio. To follow this blog, go to SuburbanColossus.com, Facebook.com/SuburbanColossus, or Twitter.com/SuburbnColossus.

Stefan P. Stefaniuk
Stefan P. Stefaniuk has been a Parma, Ohio resident since 1982 and enjoyed growing up in Parma's incredible historic downtown neighborhood. After serving five years in the U.S. Navy, he was honorably discharged in 2009 and returned to Parma, where he now resides with his wife and three children.
Read More on Opinion
Volume 8, Issue 1, Posted 11:49 PM, 01.03.2016