Patient Weds Minutes Before Baby's Birth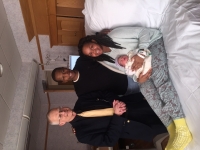 Monique and Jamaal Chavers' best wedding present arrived alert and crying at 10:07 p.m. on Jan. 27. Wrapped in a pink and blue blanket in the maternity center of UH Parma Medical Center, their precious gift weighed 7 pounds, 13 ounces.
The Cleveland couple had planned to wed on Friday, four days before their baby's due date. But Zuri wanted a birthday that no one would ever forget. Her memorable birth was witnessed by family, friends, nurses Lexi Adamo and Katie McGuire, Laura Rauser, MD – and the hospital chaplain, who had married her parents 10 minutes before her arrival.
"Anything can happen in a hospital, and it's not always on our schedule," said Rev. Wayne Decker, who was getting ready for bed when he answered the call. He drove 45 minutes from Lorain County to preside over the wedding in the delivery room – a first for him and all the clinical staff. "It's a privilege to serve – and to be here for the beginning of a life," he said.
It was an event that won't soon be forgotten by the maternity staff, who – even with many years of experience – had never witnessed a wedding for a woman in active labor. Monique started pushing immediately after uttering "I do."
"Our nurses were really happy to be able to assist Monique and Jamaal fulfill their desire to be married before their daughter was born," said Maternity Manager Lori Felton, RN. "I've never seen anything like it."
CJ Sheppard
Senior Communications Strategist, University Hospitals Parma Medical Center
Read More on Parma General Hospital
Volume 8, Issue 3, Posted 9:56 PM, 03.08.2016