UH Opens New Outpatient Center In Broadview Hts.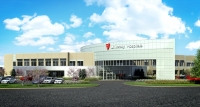 University Hospitals unveils its newest outpatient center in Broadview Heights with a public open house and a host of activities on Sunday, June 12.
The $28 million state-of-the-art UH Broadview Heights Health Center, with a freestanding emergency department, is located at 5901 East Royalton Road (Route 82) in Broadview Heights, adjacent to I-77. The new health center will be integrated operationally with UH Parma Medical Center, which will be the acute-care destination for patients who require critical care transport. Primary care physicians and specialists with offices in the new freestanding facility are members of UH Parma's medical staff.
"UH Parma Medical Center has a long-standing commitment to responding to the health care needs of Broadview Heights," said UH Parma Medical Center President Nancy Tinsley. "This new outpatient health center demonstrates a continued commitment to the patients and families we serve. We are bringing UH care closer to the community."
UH Broadview Heights Health Center will offer family and internal medicine, pediatrics, cardiology, gastroenterology, general surgery, neurology, OB/GYN, orthopedics, radiology and lab services, urgent care and a 24/7 emergency room. In addition to X-ray, the new center will offer CT, digital mammography and ultrasound. By 2017, the health center also will offer pain management.
At the June 12 community open house, from noon - 3 p.m., UH will offer free health screenings, light refreshments, giveaways, and self-guided tours of the facility. Health screenings on June 12 will include: cholesterol, glucose, BMI, carotid artery, blood pressure, and bone density screenings.
Children's programs will include making first aid kits, learning about CPR, healthy eating and the importance of staying tobacco free. Outdoor activities will include face painting, cooking demonstrations, as well as visits from fire and EMS crews.
"The UH Broadview Heights Health Center allows us to better serve the growing needs of the Broadview Heights community and its surrounding region," said Cliff Megerian, MD, President, Physician Services, University Hospitals. "We are proud to expand on our services, to address the primary and specialty care needs of our patients and families."
CJ Sheppard
Senior Communications Strategist, University Hospitals Parma Medical Center
Read More on Parma General Hospital
Volume 8, Issue 6, Posted 12:48 PM, 06.03.2016