Telestroke: Livestreaming From Ambulance To ER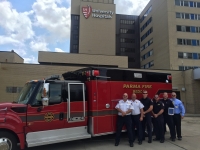 The Parma Fire Department and University Hospitals Parma Medical Center are piloting a new stroke treatment program – the first of its kind in the State of Ohio – to initiate advanced stroke care in the field, expediting administration of clot-busting drugs once the patient arrives in the ER. Paramedics utilize iPads to livestream their thorough assessments of patients on the scene. The ER physician at UH Parma Medical Center views the neurological exam in real time to determine if the patient is an appropriate candidate for the clot-busting drug tPA and prompts pharmacy to prepare the medication. Upon arrival at the ER, only a quick CT scan is necessary to confirm diagnosis and begin treatment.
"We're taking the screening exam we do in the ER and putting it out in the field, training the paramedics so they can do a proper exam," says Sheldon Rose, MD, Chairman of UH Parma Medical Center's Emergency Department and Medical Director of Emergency Medical Services. "These paramedics are really doing a service to other EMS out there. We can shave off sometimes several minutes which ­- especially in remote areas around rural hospitals like UH Conneaut and UH Geneva medical centers - can be a lifesaving amount of time."
The City of Parma, the largest municipality in Northeast Ohio outside of Cleveland, was chosen from 157 communities served by UH to pilot this program. All of their paramedics have been trained in Advanced Stroke Life Support by specially trained physicians, nurses and nationally registered instructors of UH EMS Education & Disaster Preparedness Institute at UH Parma Medical Center. UH Parma has a longstanding relationship with EMS departments in its service area, training many of their paramedics and providing continuing education throughout the year.
Advanced Stroke Life Support (ASLS) involves a more detailed exam that helps paramedics and the ER physician pinpoint severity and location of the stroke in a patient's brain. Paramedics previously used the common Cincinnati Prehospital Stroke Scale. Now they administer the Miami Emergency Neurologic Deficit (MEND) exam, a more detailed screening that can be performed in three minutes yet yields critical information.
Of approximately 15,000 squad runs by Parma EMS last year, about 1,000 involved strokes, said Chief Lasky. All 95 paramedics in Parma are now trained on ASLS.
"We are honored to have a health care partner such as University Hospitals that chose the Parma Fire Department out of all 157 providers under their medical control to launch this life-saving program," says Parma Fire Chief Mike Lasky. "UH Parma is on the cutting edge right with us. We are prepared, and I know they are prepared. Time is of the utmost importance."
CJ Sheppard
Senior Communications Strategist, University Hospitals Parma Medical Center
Read More on Parma General Hospital
Volume 8, Issue 8, Posted 10:17 AM, 08.02.2016