Church And Pokemon Go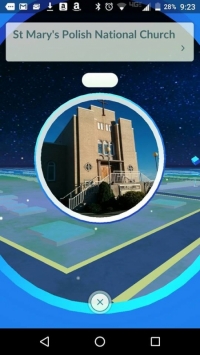 On Thursday, July 7th, an absolute sledgehammer of a mobile app changed the world: Pokémon Go. It released to large fanfare and even larger media coverage. It doubled the price of the stock of Nintendo, the company owning its IP (Intellectual Property) and I have seen it played by…no exaggeration…ages 6 to 70. And beyond my own eyes, I am sure that number is larger.
I write because I am a 34 year-old priest that grew up absolutely loving video games throughout my childhood in the 80's and 90's and has continued into adulthood, most lately with this Pokémon Go game.
In the weeks this has been out, I have walked 30 kilometers trying to hatch silly eggs. I have been a suburban zombie, eyes-to-phone, hoping for that rumble of a nearby fake monster. And I have spread the word of the game to other people with a vigor I probably should save for the Good Lord.
See, the Big Guy has to get involved in this at some point. Niantic, the company who worked with Nintendo to release the game, had a sort of scavenger hunt, GPS featured game named Ingress that was critically loved but a relative consumer unknown. So, Niantic stripped that game to a basic level, added fake monsters, and made 5 billion(!) dollars.
Part of the original Ingress game that carried over was the featuring of historical markers as stops to refuel needed in-game items…a cleverly named Pokéstop. And almost every single church in the area happens to be a Pokéstop…again, an area that players need to stop at.
Needless to say, foot traffic at St. Mary's has increased a hundredfold since the game's release. When the game actually works (that is another story), it is no surprise to see a kid, a young adult, or whoever parked near our church steps. Better yet are the cars that make a quick turn down the close side street to check-in to the Pokéstop or latch on to a "lure" that may have been set. Better yet, we had our largest fundraiser, our Polishfest, during the first 4 days of the game's release. People were constantly gathered away from the tents, food, rides and fun to be in front of the front doors of the church!
It has made for some interesting conversation – I am always upfront that yes, I am the priest here; no, I don't mind you hanging out here; and yes, I got a couple today, nothing really good. On a few occasions, I was able to speak about our church – our special branch of Catholicism, my allowance to be married and have a family (am married, no kids), and general questions about the parish itself.
If anything, it is a vessel for community leaders to reach to the public – much of the "pull" of the game is the conversations you strike up with other enthusiasts; it is very much a social experience, suburban zombies be darned. This extends beyond churches – Within a 15 minute walk from St. Mary's, one could "check in" or "fight" at an actual gym, a hot dog restaurant, a public park, a pavilion within that park, a wooden sign marking Ukrainian Village, and an old historical house, the Henninger House.
Inevitably, kids (ha!) are going to learn something about each of these places – it is part of the games point, as well as the needed kilometers needed to walk to hatch eggs to get fresh fake monsters. For all the negatives fly on the nightly news by dummies playing while driving or zealous players hopping into and through busy thoroughfares to "catch 'em all," they truly got something going on.
Rather than just be an advertisement for a game that is already worth more than the Browns, Indians, and Cavaliers combined, I just wanted to remark how neat it has been to have our church be visited, if in the name of Pokémon rather than in the name of the Father, Son, and Spirit. But hey, maybe that gap can be bridged a person here or there, and if so, I'll happily explain the virtues of evolving your Spearow into a Fearow as well as those so-important 3 Divine Virtues of Faith, Hope, and Love.
Jason Soltysiak
Rev. Jason Soltysiak resides in Parma as Pastor of St. Mary's Polish National Catholic Church on Broadview Road with his wife Natalie. He was ordained to the priesthood in 2007, serving in Scranton, PA until his Ohio relocation in 2013. His undergrad degree is in Professional & Technical Writing from the University of Hartford (CT). Though now an adopted Clevelander, his heart still resides with the Red Sox, Celtics, and Patriots.
Read More on Opinion
Volume 8, Issue 10, Posted 7:01 AM, 10.03.2016