Parma, UH Officials Support Breast Cancer Awareness Month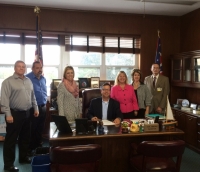 Mayor Tim DeGeeter, flanked by Parma and University Hospitals officials around his desk, recently signed a Parma City Council resolution supporting efforts to promote Breast Cancer Awareness Month.
The ceremony in the mayor's office in City Hall was attended by Parma Auditor Brian Day, Parma Treasurer Tom Mastroianni, Parma Law Director Tim Dobeck, and Councilwoman Kristin Saban, who is the resolution's main sponsor. Also, from UH Parma Medical Center were President Kristi Sink, Community Outreach Manager Mary Beth Talerico and Oncology nurse Matt Wolbert.
"Many families have been touched by breast cancer, including mine, and cancer care and prevention is improving every day," Mayor DeGeeter said. "We want to do as much as we can to help remind women to get mammograms regularly because early detection is essential for successful breast cancer care. We are fortunate to have such a fine hospital as UH Parma Medical Center right here in our city to assist with that."
Breast cancer is the second leading cause of cancer deaths in the United States after lung cancer, according to the American Cancer Society. About 1 in 8 women – 12 percent – in the United States will develop invasive breast cancer during their lifetime. UH Parma Medical Center offers 3-D mammography (tomosynthesis) that improves the rate of cancer detection and reduces the need for anxiety-inducing additional testing.
"We are pleased to partner with the City of Parma in raising awareness about breast cancer risk," Sink said. "An annual mammogram for every woman 40 or older is still the best way to save lives."
Raising awareness about breast cancer is why Councilwoman Saban introduced the resolution, which was co-sponsored by all of city council. "This resolution holds a special place in my heart," Saban said. "Had it not been for early detection at the age of 34 and with a 4-year-old child, my life may have taken a very different path."
Jeannie Roberts
Communications Director for the City of Parma
Read More on News
Volume 8, Issue 11, Posted 9:56 AM, 11.03.2016