Parma Art News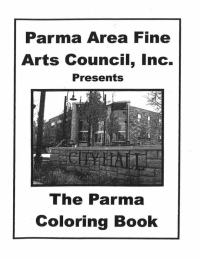 CAC ART GRANT: November 14th was a great day for the Parma Area Fine Arts Council. That was the day the announcement was made that they have been awarded a matching grant from Cuyahoga Arts & Culture for 2017. Cuyahoga Arts & Culture announced $14.5 million in grants to 241 Cuyahoga County Nonprofits that day. A matching grant is one where funds must be raised to equal the amount of the grant. The matching grant PAFAC will receive is one of the smallest, but it will help to fund free art classes in the Spring and Summer of 2017 for the Parma area community. Watch for details on upcoming classes and workshops in early Spring of 2017.
Parma Coloring Book: Just in time for the Holidays! Parma Area Fine Arts Council Members have created The Parma Coloring Book. Great stocking stuffer! Each coloring page has a Parma theme, and costs $3 each. Included are coloring pages with Ghoulardi, Big Chuck & Lil' John, Stearn's Homestead, West Creek, Parma High School, The Gazebo, Polish Village, Ukrainian Village, and more, for both children and adults. Proceeds will benefit the free art class program being offered in 2017.
For sale at the following locations:
Donna Smallwood Activities Center 7001 W. Ridgewood Dr.
Parma Area Chamber of Commerce – 5790 Ridge Rd.
Another Miracle Salon – 5971 State Rd.
Or call 440-888-4514, leave a message and someone will return your call.
Kathryn Mabin
Board Secretary of Parma Area Fine Arts Council, Inc, or PAFAC, and Artist/Jewlery Designer, Owner Aire of Oppulence.
Read More on News
Volume 8, Issue 12, Posted 6:52 PM, 12.04.2016