West Creek Conservancy Seeks Stewardship Sponsors As They Promote "Lake Erie Starts With Me!"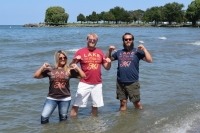 In a coordinated campaign across Greater Lake Erie, northeast Ohio residents have likely seen the phrase "Lake Erie Starts Here'...or 'with Me!" Although daunting to consider, every action we each take affects the water we drink, the water for our crops, and the water we play in.
The West Creek Conservancy has worked to protect vital stream and wetland systems, forested areas, as well as open green spaces - all in an effort to protect the waters of Greater Lake Erie. The conservancy's goal is to protect, restore, connect, and reclaim important natural areas throughout the Greater Cleveland area. As the organization continues to raise awareness about protecting the water quality within the Lake Erie watershed, it invites you to become a Stewardship Sponsor. With each individual donation of $20 or more, you'll receive a "Lake Erie Starts With Me!" shirt. All proceeds benefit the West Creek Conservancy Stewardship Fund to help the organization continue its great work.
"We want to show people that Lake Erie starts at their driveway," said Derek Schafer, Executive Director of West Creek Conservancy. "Storm water runoff plays a big part in the overall health of local streams, the Cuyahoga River and ultimately Lake Erie. We've made significant progress with the health of Lake Erie but there is much more we can do and it starts with smart choices at home."
West Creek Conservancy has been connecting people to nature since its founding in 1997. Its mission is to enrich the lives of people in Greater Cleveland by conserving natural habitats, restoring the ecological value and sustainability of urban lands, and expanding neighborhood opportunities to experience nature.
As a land trust serving all of Cuyahoga County, West Creek Conservancy permanently protects the conservation values of selected land by acquiring and holding land and conservation easements, and providing ongoing stewardship of those lands. For more information, visit www.westcreek.org.
Liz Hersh
Liz Hersh is a Seven Hills resident, and founder of Hersh PR and Marketing. She works with clients throughout the Cleveland area.
Read More on News
Volume 8, Issue 12, Posted 6:53 PM, 12.04.2016