GM To Invest Over $200 Million At Parma Metal Center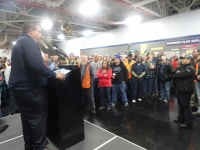 At 10:40 a.m. on Tuesday, December 14, 2016, and before hundreds of Parma team members, Plant Manager Lamar Rucker made the most important announcement in Parma's recent history. "So it is my honor, and I am humbled at this, to announce that General Motors is going to invest with Parma and UAW Local 1005 an amount totaling $218 million." That announcement was met with a thunderous round of applause from the Parma Team. It's the second largest investment in Parma's 68 year history. "This will help us retain and secure jobs," added Lamar. "And puts us in one heckuva position for the future."
The investment includes two brand new presses and die support. Lamar promised the team that information related to timing, installation and other detail will be offered to the entire team early next year.
Acting UAW 1005 shop chair Jennifer Rothschiller-Angus thanked the Parma Team. "The shop committee does what we do, but none of this could happen without you, each and every one of you." UAW 1005 President Steve Frammartino was among the most excited people on the floor. "It's been hard for me to hold this in. This is important to us. This is a great day in the history of UAW Local 1005 and the GM Parma Metal Center. We are a part of history, everybody. This is awesome and this workforce deserves this allocation!"
Special guests included Parma Mayor Timothy DeGeeter and Parma Area Chamber of Commerce President Dave Nedrich. "Thank you to the men and women of UAW Local 1005 and the entire Parma Team. I have been in office since the early nineties and this plant has had a great reputation with the union and management working together. These are the results you have when that happens," said Mayor DeGeeter.
Simultaneously, GM announced investments of an additional $334 million at its New York state engine and component plant to support future product programs. In 2016, GM has announced total investments of $2.2 billion into its U.S. operations.
Thomas Mock
Tom Mock, GM Parma communications manager
Read More on News
Volume 9, Issue 1, Posted 1:53 PM, 01.05.2017