Introduction Of Plans For West Creek Quarry District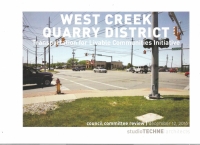 In December, Derek Schafer from West Creek Conservancy along with representatives from studioTECHNE architects appeared before Parma City Council and presented their plan for the West Creek Quarry District, part of the Transportation for Livable Communities Initiative. What they proposed is a plan to support and adopt complete street initiatives, create bike/pedestrian safe access and facilities, support economic development through place-based transportation and land use recommendations, and connect these proposals with existing assets and investments. They would further integrate principles of accessibility and environmental justice ensuring the benefits of growth and change are available to all members of the community, integrate and link recreation assets, and provide people with safe and reliable transportation choices that enhance their quality of life.
That's a lot for anyone to propose, but with the track record of West Creek Conservancy, it's a safe bet that this initiative will become a reality as planned. As someone at the meeting stated, "if anyone else proposed ths plan we might worry about it sitting on a shelf somewhere, but since it's West Creek, you have complete confidence that they will see it through." I am thoroughly in agreement with that sentiment, and I have been in admiration of the achievements of this group since their earliest start in the effort to rescue the Henninger House from demolition, and subsequent success in setting aside hundreds of acres of green space in our area, culminating in the fabulous partnership with the Cleveland Metroparks in what is the Watershed Stewardship Center.
This bold initiative will succeed in connecting the neighborhoods north and south of Snow Road on Broadview Road, as well as the area of Snow Rd, containing the shopping district, library, residential, and the West Creek Watershed itself. The list of improvements, innovations and new creations is most impressive, to say the least. This will represent the largest change to any area of Parma in many decades. As a private citizen I can say that I am most encouraged by groups like West Creek Conservancy taking the lead in finding innovative ways to accomplish progressive change that benefits a community in every way imaginable, establishing a focused identity for an area that will ultimately lead to increased walkability, attraction, and enhanced economic development.
West Creek Conservancy seems especially adept in being able to leverage diverse outside funding sources in the creation of their goals, and this is the case for this Transportation for Livable Communities Initiative project, with a price tag of over $3 million dollars, and very little if any tax dollars involved. I remain very optimistic when I see the enthusiastic support for the West Creek Quarry District from Parma City Council and the DeGeeter Administration. I only hope that this bodes well for future projects and ideas proposed, by West Creek Conservancy and other like minded groups and individuals. Let us not forget that Can't lives on Won't Street. If our city is going to attract vibrant people with futures in Parma, we need to make sure that we have plenty to attract them.
Daniel P. McCarthy
I am the publisher of the Parma Observer. Lifetime resident of Parma for over 50 years.
Read More on Opinion
Volume 9, Issue 1, Posted 1:53 PM, 01.05.2017