Young 7-Eleven® Franchisee Committed To Parma – Purchases Second Store In Area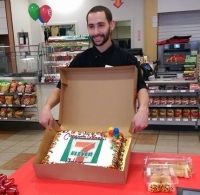 Entrepreneur Adam Radogna has demonstrated his commitment to the Parma area with the purchase of a 7-Eleven® franchise store located at 6858 Ridge Road across from Parmatown Mall. The deal took place on December 5. This is Radogna's second franchise store; he acquired his first store located at 7510 Broadview Road just last year at the age of 26.
Radogna, whose parents emigrated from Bari, Italy in the 1970s, is a rising star in the 7-Eleven franchise system. Prior to purchasing his first store, Radogna had worked his way up to manager at a 7-Eleven corporate store. After three years in that role, 7-Eleven, Inc was so impressed with his leadership and business acumen, they approached him to become a Franchisee. He jumped at the opportunity.
"As manager at the corporate store, I was already running the store as if it was mine. I also knew a lot about the business and had a growing passion for my work," said Radogna. "And I liked the idea of being my own boss, so franchising seemed like a smart career decision for me," he added.
Radogna chose to franchise both stores in Parma because of the area's low crime rate, positive job growth, and the fact that he lives in Parma and is close to both locations and thus is always available when the store needs him. "The Parma community is amazing and so supportive," said Radogna.
Many of his frequent customers visit both stores. Radogna anticipates that the completion of the Shoppes at Parma location in 2017 will positively impact business for his new store as foot traffic will increase.
Radogna gives back to the community. For the past two years, he has been a sponsor of Normandy High School. This includes providing grants, coupons and snack donations for PTA events. Additionally, he participates in school fundraisers.
Radogna is a rising star at 7-Eleven and works directly with the company's management team and executive committee to solve problems that affect franchise owners.
About 7-Eleven, Inc.

7‑Eleven, Inc. is the premier name and largest chain in the convenience-retailing industry. Based in Irving, Texas, 7‑Eleven® operates, franchises and/or licenses more than 60,000 stores in 17 countries, including 10,700 in North America. Known for its iconic brands such as Slurpee®, Big Bite® and Big Gulp®, 7-Eleven has expanded into high-quality salads, side dishes, cut fruit and protein boxes, as well as pizza, chicken wings, cheeseburgers and hot chicken sandwiches. 7-Eleven offers customers industry-leading private brand products under the 7-Select® brand including healthy options, decadent treats and everyday favorites, at an outstanding value. Customers also count on 7-Eleven for bill payments, self-service lockers and other convenient services. Find out more online at www.7-Eleven.com, via the 7Rewards® customer loyalty platform on the 7-Eleven mobile app, or on social media at Facebook, Twitter and Instagram.
Stacey Vaselaney
Stacey L. Vaselaney is a public relations practitioner located in Northeast Ohio.
Stacey is an active member of the Cleveland civic community and presently serves on the Board of Trustees at The Leukemia and Lymphoma Society of Northern Ohio and is a founding board member of EDWINS Restaurant and Leadership Institute. Sher formerly served as a board member and Chair in 2010 to the Community Advisory Board of WVIZ/PBS & 90.3 ideastream®.

Stacey is a past member of the Public Relations Advisory Committee for the communications program at Ursuline College and is regularly a
guest speaker and mentor to public relations classes at Ursuline College, Cleveland State University, John Carroll University and Notre Dame College. Stacey, a Hodgkin's Lymphoma survivor, was appointed in 2010 as an Advocacy Representative in Ohio for the national Leukemia & Lymphoma Society and serves as a patient mentor through the First Connection program.

A francophile, Stacey is proficient in reading, writing and speaking French.
Read More on News
Volume 9, Issue 1, Posted 1:52 PM, 01.05.2017