The Picasso Project: Art Classes Led By Parma Residents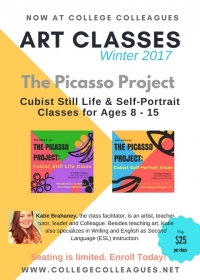 A learning center that teaches art? Why not! College Colleagues opened its doors in October 2016. My college colleague, Joline Scott Roller, and I decided to offer learning programs such as tutoring, success coaching, and workshops to the local communities.
After 20 years of learning center experience, I had never seen a learning center teach creativity. I am excited to announce that in February and March 2017, we will be facilitating The Picasso Project. The Picasso Project consists of two different classes: cubist still-life class and a cubist self-portrait class. The cost of each class is only $25 and you can pay online via or website, or at the door.
There will be a 6:1 student to teacher ratio, so the learners will receive guided instruction and plenty of support as they try new techniques. I will be co-teaching these two classes along with fellow Parma resident and artist, Katie Brahaney. Katie is one of the Colleagues, and she also teaches English as a Second Language (ESL) at the center.
Each of the art classes begins with a fun warm up activity, followed by a mini lesson in art history. Then the real fun begins as the students participate in collaborative lessons to ultimately create their own "frameable" masterpiece. Each of the classes is 2 hours long. The dates and times for the Picasso Project are as follows:
Feb. 18 and Mar. 18th Cubist Stil-Lifes 12-2pm
Feb. 25 and Mar. 25th Cubist Self-Portraits 12-2pm
During the Still-Life class, students will learn new ways of viewing the world and their own artwork. During the "mirror-free" self-portrait class, student will learn ways to showcase their special qualities and attributes. Both projects will feature mixed media so that the children have a wide variety of choices and therefore, more freedom to be expressive.
College Colleagues offers a safe and supportive learning space. We will provide snacks and drinks for the students. Our teachers, tutors, and success coaches are background checked, motivated and enthusiastic about helping others succeed.
As an undergraduate Art Education major, I recall how eye- opening it was to study cubism and paint my own cubist still life. I had an excellent teacher that helped me to break the mold of realistic artwork. In addition, I have formally studied Picasso in art history classes. Since these classes, I have developed a new appreciation for the art form, and I have used the skills in subsequent artworks. Learning to draw and create in the cubist fashion encourages creative thinking. The collaborative nature of the Picasso Project workshops will encourage social skills, communication, and self-expression.
I received an Art Education bachelor's degree and a Master's degree in Education from Kent State University. Although life took me the route of higher education administration, there was a part of me that always wanted to teach art. After two battles with cancer, I am currently living with stage 4 breast cancer. Life is precious, and I am blessed to have this opportunity to share my love of art and teaching with local children.
Stay tuned! After the classes, amazing artworks created by our students will be featured on our website as a Virtual Art Gallery. We cannot wait to share the children's art with you.

If you have any ideas of art classes or skills workshops you would like to see held at College Colleagues, please feel free to email me at contact@collegecolleagues.net. If you would like to enroll in art classes or any of our other success programs, please enroll online at www.collegecolleagues.net.
Christine Vodicka
Owner at College Colleagues, Artist, Educator, Community Activist
Read More on
Volume 9, Issue 2, Posted 9:22 AM, 02.01.2017