55th Anniversary For PAFAC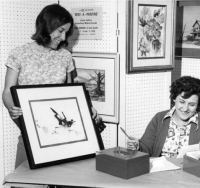 The Parma Area Fine Arts Council (PAFAC) is celebrating it's 55th anniversary this year. Their mission is to bring art to the community for the enrichment and enjoyment of the residents by providing affordable classes, art education, entertainment and special events.
Founder, Betty Woodworth Clark was a long time member of the Ohio Watercolor Society. Her work is held in many collections, including the Canton Art Institute, and Massillon Museum. Locally her work hangs at the PSE Credit Union in Parma and Middleburg Heights Library. She earned her bachelors and masters degrees in art at Otterbein College and Ohio University. She taught art for 44 years in Euclid City Schools, the Cleveland Museum of Art and various other programs, including at Parma Area Fine Arts Council, before retiring and moving to Westerville, Ohio in 1993. Two of her painting were published in Watercolor Magazine. She dedicated her life to the arts and passed away in 2007. Betty and her husband Tom worked diligently to grow the Fine Arts Council. She is best remembered for her watercolors, and Tom for photography.
In 1962 PAFAC was incorporated as a nonprofit by the State Of Ohio, and served as the umbrella organization for 23 affiliates in and around Parma. In 1963 Parmatown officials gave PAFAC a small space and the first artist exhibitor was August F. Biehle. PAFAC later rented a larger space which housed Center Gallery, and room space to hold classes. The first exhibit at Center Gallery showcased the work of Marc Moon and Kinley Shogren. After 18 years PAFAC lost their lease. They were rescued by Kate Petruska, wife of Mayor Petruska. Through her efforts PAFAC was relocated to Parkview School.
While PAFAC was located at Parkview, they offered classes through CETA funding. CETA, Comprehensive Employment and Training Act/Neighborhood Arts Program, employed artists, musicians, poets and gardeners to work in schools and community centers to add value to their communities, by using federal dollars at the state and local levels. This program trained unemployed creative people and provided musical programs, visual arts and dance programs to the community.
PAFAC moved to Pleasant Valley Jr High for a period and later to a building behind City Hall which was a much smaller space and limited their ability to hold classes. Under the auspices of Mayor Boldt, PAFAC moved into the renovated Schaaf Community Center. When Schaaf was sold they moved to their current location within the Donna Smallwood Activities Center.
In it's heyday, in addition to the gallery shows, they held art festivals where The Parma Symphony and The Messiah Chorale preformed. Rent-A-Painting was a popular fundraiser, where people rented a painting with the option to buy. Party In The Park held at Ridgewood Lakes Park showcased both arts and crafts. Many scholarships were provided to the five area high schools over the years for graduates interested in pursuing a career in art. Fashion shows, luncheons, potlucks, and dinners were popular. PAFAC also created an 8 page monthly newsletter which included art, poetry, and listed current events. At one time, they boasted a mailing list of 500 members.
Many prominent local and nationally known artists were members and instructors, such as Fred Leach, Robert Laessig, James Seward, Clarence Perkins, Windsor Chen, Ruth Benson, Ann Fassinger, Helen Lubinski, Jo Greenwald, Doug Pasek, Cheryl Fetko, Mitzi Lai, Marco Vaccher, Bob Backston, Ann Marie Pribish, Gus Volas, and John Kua.
Today, PAFAC has three affiliate organizations, Great Lakes Wood Carvers, High On Dolls, and Common Thread Quilters. They continue to offer beginner friendly, very affordable, low cost classes for adults and children at the Smallwood Center. Over the last few years they have partnered with Polish Village and the City of Parma on community events which benefit families and youth. They continue to make art accessible by offering free admission to their art shows.
For more information on Parma Area Fine Arts Council, or if you are interested in becoming involved, check out their web site, www.parmafinearts.org, or follow them on Facebook.
Kathryn Mabin
Board Secretary of Parma Area Fine Arts Council, Inc, or PAFAC, and Artist/Jewlery Designer, Owner Aire of Oppulence.
Read More on News
Volume 9, Issue 2, Posted 11:23 PM, 03.01.2017