Flamingo Fever – Call For Artists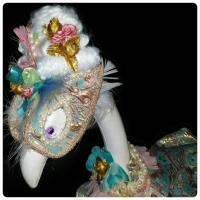 2017 is the 60th Birthday of the Pink Plastic Flamingo! Capistrano has Swallows. Hinkley has Buzzards. Parma has Pink Flamingos!
Don Featherstone designed the famous Pink Plastic Flamingo lawn ornament in 1957 for the Massachusetts plastic company, Union Products. The initial cost for a pair in 1957 was $2.76. During the 1960's and 70's Parma was the target of jabs by local TV hosts, Ghoulardi, Big Chuck & Little John and The Ghoul, who focused on Parma residents love of white socks, pink flamingo lawn ornaments, chrome balls, kielbasa, pierogi, and polkas. Mention Pink Flamingos to a Parma Born Baby Boomer and they immediately relate it to Parma.
In 2013 Parma's Polish Village hosted the first ever public art event in Parma, called Flamingo Fever. So what is Flamingo Fever? Artistic minded individuals apply their talents to create table top sculptures in various styles, using the pink plastic flamingo as a base for their designs. The one of a kind flamingos are as unique as the individuals that create them. Some are painted, others are dressed in costumes, some are humorous, others are beautiful. The flamingos are placed on display in local businesses over the summer, and the festivities culminate in an auction in the fall. It is a family oriented fun filled community event. Net proceeds benefit other Polish Village community events throughout the year.
So join in on the fun and create your own pink flamingo. You'll be glad you did. For more information, or for an application to create your own flamingo email kathrynmabin@att.net, or call 440-843-6474 and leave a message.
Kathryn Mabin
Board Secretary of Parma Area Fine Arts Council, Inc, or PAFAC, and Artist/Jewlery Designer, Owner Aire of Oppulence.
Read More on News
Volume 9, Issue 2, Posted 11:23 PM, 03.01.2017