North Coast Needlers Quilt Show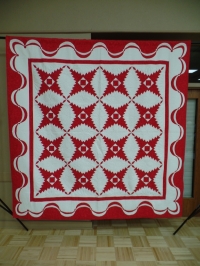 North Coast Needlers Quilt Guild presents its 15th biennial quilt show "My Favorite Chix are Quilters!" Over 250 quilts will be featured, ranging from traditional and contemporary to modern and art quilts, offering something for everyone to enjoy. Many of our members are award-winning quilters!

Quilts will be exhibited in the airy rotunda of Westlake High School, 27830 Hilliard Boulevard, Westlake, on Saturday, April 22 and Sunday, April 23. Show hours are 10-5 both days. A beautiful red and white guild-made quilt will be raffled off on Sunday afternoon.

Rounding out the show will be a boutique offering handcrafted items for sale, a quilt-side cafe', and a vendor mall featuring local and regional dealers. Admission donation is $5 for adults, $4 for seniors, ages 10 and under free. More information can be found on the North Coast Needlers website www.ncnquilt.com.
Mary Krauss
North Coast Needlers is a not-for-profit quilt guild with 150+ members from all over the northeast Ohio area. Our biennial quilt shows are held in the spring of odd years at Westlake High School.
Read More on News
Volume 9, Issue 2, Posted 10:17 PM, 04.02.2017