May Art Show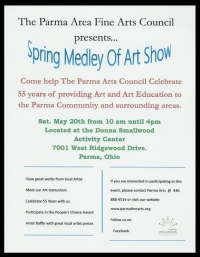 The annual spring art show and sale, sponsored by Parma Area Fine Arts Council (PAFAC), will be held on May 20, 2017, from 10:00 a.m. to 4:00 p.m., at the Donna Smallwood Center. This show is free and open to the public. Great selection of raffle prizes this year. Refreshments will be served. Great Lakes Wood Carvers will be demonstrating their carving techniques during the show. Also on display will be one of a kind dolls from the High On Dolls club.
No residency or membership requirements for applicants. You still have time to enter. Ribbons and cash prizes are awarded in the following five categories: 1) Watercolor; 2) Oil & Acrylics; 3) 3 Dimensional (pottery, carving, jewelry, sculpture); 4) Computer Graphics/Pencil/Pen & Ink/Pastels; 5) Photography, as well as a Best In Show and People's Choice Award. In honor of PAFAC's 55th Anniversary, the monetary awards have been increased over previous years. Applications must be received by May 12th. Drop off date for entries is May 19th. For details or an application, please contact Michelle at (216) 618-0956 or visit PAFAC's web site at ParmaFineArts.org. You can also follow PAFAC on Facebook.
Kathryn Mabin
Board Secretary of Parma Area Fine Arts Council, Inc, or PAFAC, and Artist/Jewlery Designer, Owner Aire of Oppulence.
Read More on News
Volume 9, Issue 5, Posted 2:43 PM, 05.02.2017