Parma Splash Pad Now Open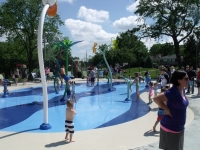 After much anticipation, the Parma splash pad opened to the public on May 27 with a ribbon cutting ceremony at 10 am. The impressive zero depth water playground is built on the former site of Ridgewood Pool at Anthony Zielinski Park, on Ridgewood Drive directly across from the Shoppes at Parma complex. Admission is free, and the park will be open 7 days per week from 11 am to 8 pm, except in dangerous weather and if the temperature is below 70 degrees. The splash pad is surrounded by decorative metal fencing, features chairs and picnic tables with decorative umbrellas, and is fully handicapped accessible. The project was funded in part by a $225,000 donation from a Parma family, and a memorial plaque of commemoration is in place near the front gate.
Daniel P. McCarthy
I am the publisher of the Parma Observer. Lifetime resident of Parma for over 50 years.
Read More on
Volume 9, Issue 6, Posted 8:51 AM, 06.02.2017