Delicious Parma Restaurants That Donít Serve Pierogies...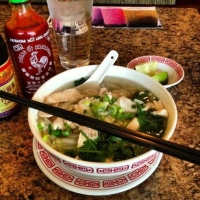 Parma may be known for its pierogies and other Eastern European menu items, but the city and surrounding area also serve up delicious fare from a number of other nationalities. Here are some you have to check out.
Sushi
Blue Ginger
Blue Ginger serves up great sushi and other Japanese, Chinese and Thai food. Monday and Tuesday they offer half off sushi, as well as happy hour from 4 p.m. to 6 p.m. Wednesday through Saturday.
1061 W Pleasant Valley Rd.
Mizu is known for its modern interpretation of classic dishes and its insistence on only using high quality fresh ingredients.
10219 Brookpark Rd
Thai
Charm Thai
Charm Thai is family-owned and offers authentic Thai cuisine such as curries and pad thai, as well as a full bar.
7426 Broadview Rd
Chinese
Mandarin House
Mandarin House offers Chinese and Vietnamese food to eat in or take out including daily specials, bubbles teas and slushies and wine and beer. Even the basics like pork fried rice and wonton soup are top notch. (Photo by Eleni V. on Yelp)
10393 W Pleasant Valley Rd
Lebanese
Sittoo's
Sittoo's (Lebanese for grandma) serves up traditional Lebanese salads, soups, sandwiches and entrees.
5870 Ridge Rd, Parma
Indian
Cuisine of India
Come here for authentic Northern Indian cuisine. They do a great lunch buffet during the week and a champagne brunch buffet on the weekends.
6857 W 130th St
India's Cafe & Kitchen
This joint also offers a lunch buffet on Fridays and the weekends, and also a dinner buffet on Fridays.
5549 Ridge Rd
Italian
Stancato's
This casual restaurant and cocktail lounge has served up Italian fare since 1971. The restaurant has daily specials and offers great Sunday, lunch and Monday dinner buffets.
7380 State Rd
Corleone's
"Casual Italian dining in a cosmopolitan atmosphere," Corleone's keeps it classy while offering menu items you can pronounce.
5669 Broadview Rd
Verso
Verso offers a diverse menu of pizza, pastas and casual Italian bites served in a modern dining room.
5869 Broadview Rd
Eddie's Pizzeria Cerino
Sister site of Fast Eddie's, Eddie's Pizzeria serves Italian favorites an affordable price.
7305 Broadview Rd
German
Das Schnitzel Haus
Ok, we lied, this one serves pierogies, but Das Schnitzel Haus also offers other German food like potato pancakes, bratwurst, ribs and duck. Plus it has a beautiful patio!
5728 Pearl Rd
Central American
Pupuseria Katarina
Come here for authentic cuisine of El Salvador, along with a refreshing cocktail.
1409 Brookpark Rd,
Filipino
Mely's Kainan
Mely's Kainan is a carryout restaurant and catering business that features traditional Filipino cuisine including favorites such as lumpia, pancit palabok, empanada, kare-kare, adobo, dinuguan and many more.
5382 State Rd
Korean
Seoul Garden
This pan-Asian eatery offer traditional Korean & Japanese fare in a casual, compact venue. Get ready to fill your table full of delicious plates!
5270 Pearl Rd
Greek
Pappou's
This diner serves straightforward Greek, Italian and American dishes, including breakfast.
8320 Snow Rd
*This blog has been republished from ParmaYPs.com.
Kathie Zipp
In her day job, Kathie Zipp is managing editor for Solar Power World magazine, published by WTWH Media out of Cleveland, Ohio. Outside of work, Kathie enjoys sharing her passion for Cleveland and its suburbs by blogging on the content council for Engage! Cleveland. She also recently joined the marketing and communications committee for the Young Professionals of Parma and is excited to advocate for her hometown in this role.
Read More on
Volume 9, Issue 7, Posted 5:14 PM, 07.02.2017