Hero U.H. Parma Medical Center Nurse Jumps In To Aid Parma Firefighters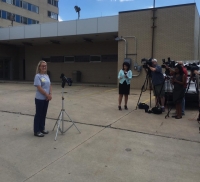 On the evening of Monday, June 19, 2017, a devastating, and ultimately fatal accident occurred near the intersection of Snow and State Roads. Though one is often hard pressed to find the silver lining of such an occurrence this particular incident was blessed by an angel of mercy. A quiet, unassuming cardiac care nurse employed at The University Hospitals Parma Medical Center, by the name of Andrea Delfs became difference between life and death of one young child.
While on her way to work from her Old Brooklyn residence on that fateful evening, something told Andrea to vary her normal route, which led her down Snow Road and ultimately into action. As the accident scene began to unfold Andrea noticed the devastation in her rearview mirror. Reacting within milliseconds Andrea's heretofore unexplained route change became abundantly apparent. Andrea immediately initiated a U-turn, parked her vehicle and sprang into action.
Andrea was met by a man carrying what appeared to be a lifeless and bleeding child and here training, heart and skills took the forefront. Immediately assessing the child Andrea began lifesaving cardiopulmonary resuscitation efforts. Within seconds the previously lifeless child began to respond. Divine intervention was truly at hand as soon the child was softly able to squeeze Andrea's hand.
Andrea knew that even though the child was not out of the woods she was stable enough to continue her healing efforts. As the wail of sirens from the responding Parma Fire Department units could be heard in the near distance Andrea moved onto the next victim. The driver of another vehicle was unresponsive, with no pulse and was not breathing. Nurse Andrea knew her efforts needed to be directed toward saving his life.
Without regard for her own safety, Andrea entered the entangled wreckage and once again began cardiopulmonary resuscitation. Andrea continued her efforts until relieved by the Firefighter/Paramedics of the Parma Fire Department took her place.
The thoughtful Delfs stated "when I see someone who needs help I can't look away, I need to help." It is the dedicated individuals, the firefighters, paramedics, police officers and nurses like Andrea Delfs that make a difference on a daily basis, the people that stand watch on a wall of protection and say to their community "no one will harm you on my watch."
The Parma Fire Department thanked Delfs for her quick action during the incident on their official Facebook and Twitter pages. The story was quickly picked up by the news media and a press conference was held to laud Delfs as an everyday hero who saw her duty and acted without hesitation. Parma Fire Chief Mike Lasky "On behalf of the Parma Fire Department I would like to thank Nurse Andrea. It is not often that people get involved but Andrea did so without hesitation and in the process saved a young life."
T.J. Martin
Firefighter/Paramedic for the City of Parma Fire Department currently serving as Communications Coordinator and Public Information Officer.
Read More on News
Volume 9, Issue 7, Posted 5:16 PM, 07.02.2017