Parma Art News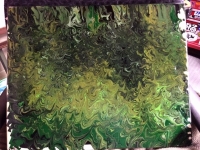 FREE ART CLASSES! For seniors age 55 plus, at the Donna Smallwood Activities Center, located at 7001 W Ridgewood Drive! Classes are limited to 10 students each, in order to offer individualized attention. Supplies are included. These classes are for the beginner.
Watercolor with Emery Bogardy (ages 55+) Monday's – 9:30am to 11:30am
8 weeks – beginning July 10, 2017 – ending August 28, 2017
Learn To Draw Portraits with Sean Mabin (ages 55+) Thursday's - 1:00pm to 3:00pm
6 weeks – beginning July 13, 2017 – ending August 17, 2017
To register, call (440)843-6474 and leave a message, email kathrynmabin@att.net, or sign up at the front desk of the Smallwood Center. These classes fill up fast, so don't hesitate. The classes are brought to you through a matching grant from Cuyahoga Arts & Culture, Parma Area Fine Arts Council and local residents who believe in the importance of arts programing for the community.
Last year was the first year Parma Area Fine Arts Council was able to provide the free classes for the benefit of the community. One of the beginner water color students painted a lovely Matisse like watercolor of a vase and flowers. A friend who lives in an upscale community loved her painting so much she offered to purchase it. She gifted it to her instead. Much to the beginners amazement, it now hangs in the same room as an original Picasso. Can't promise your work will hang with a Picasso, but we do believe you will find much to enjoy. Some students took their paintings to a printer, who made greeting cards from them. Many have found a new hobby.
Kathy Kijeck, member of Parma Area Fine Arts Council's board, was very excitied when her painting titled Metroparks, was accepted into the juried art show for Cleveland Metroparks Centennial. Look for her painting at the Watershed Stewardship Center at West Creek August 1st through the 27th.
Parma Area Fine Arts Council offers summer art classes for youth ages 7 to 17. These classes are held on Wednesdays, 4:30 to 6:30pm, at the Smallwood Center. Cost is $8 for the 2 hour session, and supplies are included. Call (440)888-4514, or (440)843-6474 for more information or to register.
Kathryn Mabin
Board Secretary of Parma Area Fine Arts Council, Inc, or PAFAC, and Artist/Jewlery Designer, Owner Aire of Oppulence.
Read More on News
Volume 9, Issue 7, Posted 5:14 PM, 07.02.2017