Parma Fire Department Takes A Proactive Approach To The Heroin Epidemic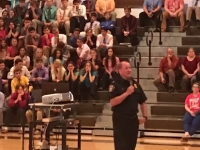 It is heard every day in newspapers and on television stations across the nation, but especially here in Northeast Ohio. "Heroin overdoses on the rise." To combat the growing epidemic, Chief Mike Lasky of the Parma Fire Department knew something had to be done.
Lasky also knew that the perfect one to address this plaguing problem would be a member of the department that grew up in the community, was active in local sports programs, is the father of teenage children of his own and one that had a passion for the safety of our youth. "I knew that we needed Captain David Higginbotham to get a program together where we could reach out to the youth of our community and warn them of the dangers of heroin before they came into contact with the drug. Knowing Captain Higginbotham's connection to the community and his profound professionalism we would make an impact that could hopefully save countless lives."
Captain Higginbotham, along with Firefighter Dan Guadino, formed what would become known as the Parma Fire Department Educational Task Force. "We developed the curriculum for a one-hour program in which we could visit local high schools and through a simple TED style chat we could warn them of the dangers in every community as part of the heroin epidemic. Parma Hockey Coach Joe Guadino encourage me to present this program and offered outstanding support in his development," said Higginbotham.
The pilot program was presented to a small group of thirty parents and student athletes in September of 2016 and was very well received. Higginbotham and Guadino were buoyed by the initial reception and took their program on the road. To date, the pair have visited several area high schools to present the program to freshman, sophomores, juniors and seniors and have made an impression on students across the area. "If our program saves just one life of a teen that may have considered using this deadly drug it will have been well worth all of our time and effort," says Firefighter Guadino.
The department has received several requests for information about the program from schools, fire departments and police departments throughout Northeast Ohio. "We are happy to share our curriculum with any program that wants to get the word out about the dangers of heroin and we love that it has garnered such interest," said Higginbotham. Several members of the Parma Fire Department have taken the curriculum and program to their respective home towns to share with parents and student.
"Our department has always been proactive in the protection and safety of our community. Through the Parma Fire Department Educational Task Force, we have been able to take our efforts out to the youngest community members and make an impact on their lives," says Lasky.
T.J. Martin
Firefighter/Paramedic for the City of Parma Fire Department currently serving as Communications Coordinator and Public Information Officer.
Read More on News
Volume 9, Issue 7, Posted 5:14 PM, 07.02.2017