Tri-City Veterans Of The Korean War To Be Honored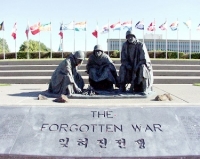 Last year, the City of Parma honored our city's veterans of World War II. This year, with Seven Hills and Parma Heights participating as well, the cities would like to honor veterans of the Korean War.
If you served or know someone else in Parma Hts. or Seven Hills who served in the Korean War, please let us know. A special email address – koreaveterans@cityofparma-oh.gov – has been created so that you can send in your contact information so that we can be in touch with you regarding our ceremony. You may also call Parma City Treasurer Tom Mastroianni at (440) 885-8812 or Communications Director Jeannie Roberts at (440) 885-8181.
The ceremony will be held Thursday, Sept. 14 at the UAW Local 1005 Hall, 5615 Chevrolet Blvd., at 6 p.m.
Parma Mayor Tim DeGeeter, Mayor Mike Byrne of Parma Heights and Mayor Richard Dell'Aquila of Seven Hills will present proclamations to the veterans from their city.
Jeannie Roberts
Communications Director for the City of Parma
Read More on News
Volume 9, Issue 7, Posted 5:15 PM, 07.02.2017