Celebrating Ellen Polacek's 100th Birthday - August 22,2017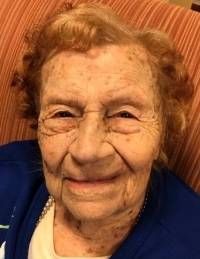 Blowing out the candles on 100 birthday cakes at one time seems almost impossible. It's less of a challenge, however, if it's one candle-lit birthday cake a year. Just ask Ellen Polacek who will be showing how it's done when she blows out the candles on her 100th birthday cake this year! Fellow residents and staff of Southern Hills Skilled Nursing Center in Middleburg Heights, along with family and friends, will gather on her birthday Tuesday, August 22, to cheer Ellen on and to sing "Happy Birthday" to an exceptional lady. Her celebration activities will begin the previous Sunday with a gathering of family and friends.
Over the past 100 years, Ellen's list of titles has grown to include wife, mother, grandmother, great-grandmother, sister, aunt, friend, active church member, part-time Cleveland School cafeteria employee, and part-time catering employee. Ellen has seen, experienced and graciously adjusted to the many changes that have come about for her during those many years. Should you stop in at Southern Hills to visit with Ellen, look for her sitting in her favorite place in the foyer. Before she says a word, she'll give you one of her cute smiles letting you know that she's glad to see you. And just offer her a cup of coffee with two sugars and two creams, along with a cookie, and you're definitely her friend!
Happy Birthday, Ellen, and may the Lord bless you as you continue to be a blessing to those who know and love you and for being an example of a life filled with love, compassion and contentment.
Tammy Kopystynsky
Admission Director at Southern Hills Nursing and Rehab
Read More on News
Volume 9, Issue 8, Posted 11:31 AM, 08.02.2017