Delegation From China Visits Parma On July 26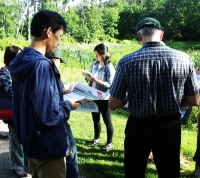 Parma was host to a delegation visiting from The People's Republic of China on July 26, here as part of a U.S. Department of State sponsored Program entitled "Environmental Issues at the Municipal level in the U.S." The purpose of their visit was to observe the Fernhill Stormwater Treatment Wetland, created at the Lower Fernhill Picnic Area in the Metroparks in 2016. This group of five visitors was invited here through the efforts of the Cleveland Council on World Affairs with the cooperation of the State Department International Leadership Program. The mission is to "explore how biodiversity and sustainability are encouraged in this country and to explore municipal efforts to address climate change, pollution, and responsible development." Their reason for visiting this particular site was to focus on how local government and non-profit organizations have collaborated to create a wetland area for the purpose of stormwater treatment and water quality assurance.
Since Parma has been rocked recently by severe rain events and subsequent flooding issues, one casualty has been the suspension bridge linking the parking area and the storm water treatment wetland across the creek. The bridge was completely taken out by a large tree being carried in the rain swollen creek during a severe storm. The vehicles carrying the delegation had to park at a nearby shopping plaza on Brookpark Rd. and everyone walked from there southbound on the all-purpose trail to the wetland. They were escorted by Bob Gardin, Executive Director of Big Creek Connects, Mary Ellen Stasek, Board Chair of Big Creek Connects, and Jennifer Grieser, Senior Natural Resource Manager for Cleveland Metroparks. Two members of the US Department of State Team joined the group as interpreters.
Our Chinese visitors seemed to enjoy themselves thoroughly the entire time, taking in the beauty of the wooded area along the trail leading to the storm water wetland area. There are a few massive old growth trees which hug the trail and never fail to captivate all who encounter them. There were many stops during the walk, and the events leading up to the development of this storm water treatment project were explained in great detail to the visitors. Their intelligent questions that followed made it evident that they were greatly impressed with what they were seeing. I have no doubt that they will always remember their visit to the seventh largest city in Ohio, but just to be certain, I made sure that they had copies of the Parma Observer to take home with them.
Daniel P. McCarthy
I am the publisher of the Parma Observer. Lifetime resident of Parma for over 50 years.
Read More on News
Volume 9, Issue 8, Posted 11:32 AM, 08.02.2017