Little Known Memorial In Parma Heights.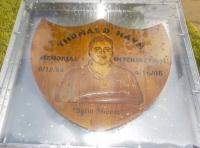 As told by Gary Koval. Wanted to share this with forum members. Back in 06' my son and his best friend were attending BGSU as Juniors. Joe (my Son) and friend Tom were members of the Lambda Chi Alpha Fraternity. Tom was President at the time and Joe, Vice President. Both boys had come home for the Easter holiday. On Easter Sunday morning about 2:00 A.M. while Tom was returning home from another friend's house, he was broadsided by a drunken driver and died two days later. My son was overcome with grief, but made it through the rest of the term as President of the Fraternity. The University donated a tree and the Fraternity bought a memorial stone for the base of the tree, on campus. Friends and family back home set up a make shift memorial at the intersection, bringing flowers and balloons over the years. Well, someone continued to remove these items to clear the area. So with the permission of Tom's parents I made a memorial plaque with the hopes that the city, Parma Heights, Ohio, would in some way remember Tom, (who by the way worked his summers for the city). Two years have passed since I made the plaque and gave it to the Mayor's Office. I received a call from Tom's parents on 9/10/09, (Tom's birthday), to tell me that the city had erected the plaque. So now at the intersection of Denison Ave. and Ridgewood Dr. is Tom's permanent plaque recognizing the intersection as The Tom Hayn Memorial Intersection. The case that that plaque is enclosed in was paid for by the Thomas D. Hayn Memorial Fund at the Bowling Green State University Foundation. This Memorial fund that is funded by a yearly golf outing in Tom's name provides three yearly scholarships to incoming freshmen. Take a look at www.tomhayn.org for more information.
Bob Stilwell
Retired Manufacturing Supervisor since 2008. I'm a member of the American Legion Post 703 In Parma,Ohio. Active Member of the Parma Heights Historical Society. I write Memorials for an internet group called "Find A Grave"
Read More on
Volume 9, Issue 8, Posted 11:30 AM, 08.02.2017