Parma Public Safety Forum Deals With Opiod Epidemic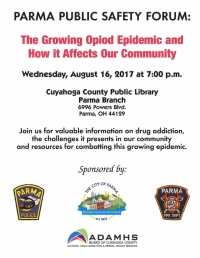 The City of Parma and its Department of Public Safety are holding the second in a series of quarterly public safety forums on Wednesday, August 16. This one is entitled: The Growing Opiod Epidemic and How It Affects our Community.
The forum will be held at the Cuyahoga County Public Library Parma Branch at 6996 Powers Blvd. on Wednesday, August 16 at 7 p.m. Officials from the Alcohol, Drug Addiction & Mental Health Services Board of Cuyahoga County will present information about the ever-increasing challenges of trying to curb the explosive growth of drug addiction in Parma and other communities in Cuyahoga County and Northeast Ohio.
Officials from Parma's Public Safety Department will also be on hand to answer questions specifically about Parma. The next quarterly public safety forum is scheduled in November.
Jeannie Roberts
Communications Director for the City of Parma
Read More on
Volume 9, Issue 8, Posted 11:31 AM, 08.02.2017