Common Thread Quilters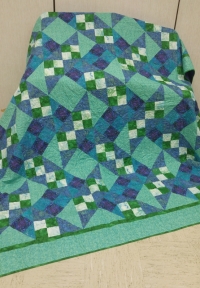 Common Threads Quilt Guild was established in Parma, Ohio, in September, 1986 and is a member of NEORQC ( North East Ohio Regional Quilters Council). They are dedicated to sharing the art of quilting and welcome all interested individuals regardless of their skill levels.
They meet on the third Monday of each month at the Donna Smallwood Activity Center, located at 7001 W. Ridgewood Dr. at the SE corner of Ridge Rd behind city hall, next to the Cuyahoga County Public Library on Powers Blvd. On meeting night the doors open at 6:00pm, the program begins at 6:30pm, followed by refreshments, a business meeting and show & tell. They have over 50 current members. Membership is open and guests are invited to attend their first meeting for free.
Their many activities include, speakers, trunk shows, a monthly newsletter, workshops, yearly quilting challenge contests, sew-in days, a June dinner, a Christmas party, bus trips, various small groups, community service projects, a triennial quilt show and other special events.
"Stitches in Time", is their 11th Triennial Quilt Show, and will be held on Saturday, September 30th and Sunday, October 1st from 10AM to 5PM. Admission will be $5.00. Their queen size Raffle Quilt is currently on display at the Smallwood Center in the lobby showcase. Raffle tickets are $1.00 each, or 6 for $5.00. The drawing will be held on Sunday afternoon. Look for a vendors mall, raffle gift baskets & refreshments at the show, in addition to an array of beautiful handmade quilts. They welcome you to attend the event and hope you will enjoy it, learn something interesting and are inspired to try your hand at this rewarding art form.
Kathryn Mabin
Board Secretary of Parma Area Fine Arts Council, Inc, or PAFAC, and Artist/Jewlery Designer, Owner Aire of Oppulence.
Read More on News
Volume 9, Issue 9, Posted 1:04 PM, 09.01.2017