We Say Farewell To Another Good One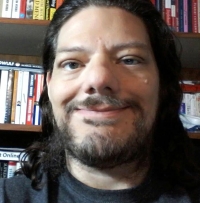 On August 13 Bryan N. Griffin, Jr. passed away at the age of 47. Bryan was one of our citizen journalists and often contributed stories in the Parma Observer over many years. He graduated from Brooklyn High School and studied Journalism, Literature and Creative Writing at Tri-C and Cleveland State University. and he was a freelance writer. His style was unique and we were lucky to feature his work in our publication. He attended many meetings where we had loads of fun discussing everything from journalism to his favorite subjects, including metal music, comic books, horror films, WWF, and just about anything else. Even though he was frequently dealing with medical issues, Bryan always had a sunny outlook, was as brave as anyone I've met, and never failed to make the rest of us laugh. I will always remember the last time that I had the pleasure of speaking with him one Tuesday at the Arabica in Parma Heights. He will be greatly missed. Farewell Bryan N. Griffin, Jr.
Daniel P. McCarthy
I am the publisher of the Parma Observer. Lifetime resident of Parma for over 50 years.
Read More on
Volume 9, Issue 9, Posted 1:06 PM, 09.01.2017