John Allender Returns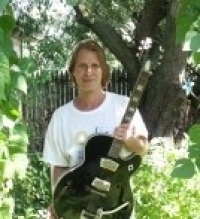 John Allender is a friend of us all. He is a Graduate of Valley Forge High School Class of 1989. He wrote for the Parma Observer and even snapped the iconic front page photo through the fence of the movie set in Parma when a scene from the Avengers was filmed in 2011. John is also a well known and admired Blues guitar player with his own band, the John Allender Band, and he won the coveted International Blues Competition (IBC) contest where he now lives in Fort Myers, Florida in 2015, and went on to represent South Florida in the main competition in Memphis. More and more doors opened for John and his amazing talent. Tragedy has a cruel way of striking artists just when they are doing so well. Sadly John was not spared this persistent curse.
In August of 2016 while he was crossing US 41 in Fort Myers, John was struck by a car going at least 50 mph. His injuries were incredibly severe. His neck was broken, back was broken, both arms broken, the left arm in three places, the right arm needed a severed nerve to be repaired, he lost both legs, had a head injury, and so many other injuries that I can't even list them all. He was in a coma for 6 weeks, and spent 5 months in the hospital before he was even able to begin therapy and undergo additional corrective surgeries. Let's face it- it is an absolute miracle that John lived through this nightmare. What's even more amazing is the rapid recovery that John is experiencing, despite the unthinkable challenges he has faced.
With the good news of John's recovery comes the sobering fact that all of this costs a great deal of money. Medical bills aside, there are so many other financial challenges faced by someone like John as they struggle to live and return to normalcy after an earth shattering calamity such as this. The good people at Smedley's Bar and Grille, 17004 Lorain Ave in the beautiful Kamm's Corners neighborhood, are allowing their place to be used on Saturday, October 14 from 2 - 8 pm for the John Allender Benefit Road to Recovery hosted by Dirty Town Guitars and Amps. Make sure to drop what you're doing to come out that day and give John all the support that he needs and deserves. John will be in town for the event, the first time he's returned to Ohio since this terrible tragedy occurred. Let's all show our love on that day for a cherished artist and friend.
Read More on
Volume 9, Issue 10, Posted 8:44 AM, 10.05.2017