Parma Heights Announces Halloween Hours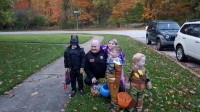 Trick or treating in the city will take place on Tuesday, October 31, 2017.
Hours will be from 6-8 p.m.
Residents are asked to turn on their front porch light if they are participating in the distribution of candy for youngsters.
For more information, call Parma Heights City Hall at 440.884.9600, or visit www.parmaheightsoh.gov.
Rick Haase
Rick Haase handles Public Relations and Special Projects in the Office of Parma Heights Mayor Michael P. Byrne
Read More on
Volume 9, Issue 10, Posted 8:44 AM, 10.05.2017