Treat N Greet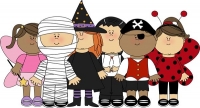 The much anticipated Polish Village's Treat N Greet is scheduled for Saturday, October 28, 2017, from 11am to 2pm. This marks the seventh year for Treat N Greet. The children, all decked out in their costumes, accompanied by adults, walk Ridge Road, Trick-Or-Treating the participating businesses. Families are to go directly to Treat N Greet Headquarters, located at 5755 Ridge Road, and receive a Passport that lists the locations of the participating businesses. As each family goes to a business the Passport is stamped. When the passport is filled, or when the adults become exhausted, they return to the Headquarters and turn in the Passport. Depending on how many stamps they receive, they are given tickets to enter in a raffle for prizes, which consists of baskets of goodies, or gift certificates from local merchants.
The event is held during the daytime, and it is a safe way for families to celebrate Halloween. The upside for the businesses is they receive foot traffic from people who may not normally shop their business. Many of the businesses also supplement the candy and gum they give out, with trinkets, or coupons, and other treats for both adults and children. Last year over 60,000 pieces of candy were passed out, and over 40 businesses participated.
The Ghost Busters frequently make an appearance, as does Sparky The Dog. Some shops also dress in costume for the day. All in all, it is a great way for families to herald the fall season in a safe, friendly environment, and it is a great way to celebrate the community with your friends, neighbors and shop keepers.
The event is free and open to the public. For more information follow Polish Village on Facebook.
Kathryn Mabin
Board Secretary of Parma Area Fine Arts Council, Inc, or PAFAC, and Artist/Jewlery Designer, Owner Aire of Oppulence.
Read More on News
Volume 9, Issue 10, Posted 8:44 AM, 10.05.2017