Drones Are New Tool For Parma Police Department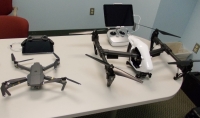 Though a popular recreational pursuit, drones are not just fun and games. The Parma Police Department is putting two newly purchased UAVs (unmanned aerial vehicles) to use as an important part of its crime-fighting efforts. Officers demonstrated use of the drones to city council members and members of the public in attendance at a local council meeting recently.
The department has purchased two drones, paid for using money from the Law Enforcement Trust Fund, which uses money seized from criminal activity such as drug busts. One is equipped with a thermal imaging camera; the total cost of $15,992.00.
There are myriad uses for the drones, among them allowing police officers to safely and efficiently search wider areas while looking for missing persons, especially children and elderly citizens, and also making it easier to locate armed and dangerous suspects who are either hiding inside of buildings or who have fled from police. These searches can be efficiently undertaken with police officers on the ground, which enhances officer safety.
Safety Director Tom Weinreich stressed the importance of increased safety. "The deployment of drones is another practical use of technology that will enhance the safety not only of the men and women of our police department but also of the residents they serve and protect."
The department will also make the use of the UAVs available to the Parma Fire Department during search and rescue operations.
"I applaud the use of this new technology by Parma Police Department," Mayor Tim DeGeeter said. "Use of drones will no doubt save a life, whether that's in a missing person or SWAT/hostage situation or in some other way. It's exciting to see Parma being ahead of the curve by being one of the first police departments utilizing this technology."
The thermal imaging camera is designed to pick up heat signatures of people on the ground, which will aid police and fire personnel in locating missing or injured persons, especially during searches conducted at night. Drones can also be utilized by the police department's Crime Scene Unit, as well as assisting the Traffic Unit with mapping crime and accident scenes.
Police Chief Joe Bobak called the UAV "yet another important tool that will support the police department in its mission to keep the community safe and will aid police and fire personnel in efforts to save lives."
The department sent 10 officers to training at the Public Safety Training Center located on the Western Campus of Cuyahoga Community College. They are currently in the process of obtaining operator licenses from the Federal Aviation Administration.
Jeannie Roberts
Communications Director for the City of Parma
Read More on News
Volume 9, Issue 11, Posted 4:48 PM, 11.01.2017