Parma Launches Into Small Business Month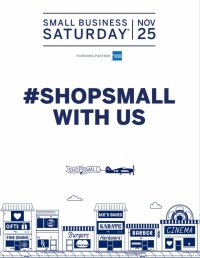 For the fifth consecutive year the City of Parma - along with Parma City Council and the Parma Area Chamber of Commerce - will celebrate Small Business Month, which culminates on Small Business Saturday, Nov. 25. Parma Mayor Tim DeGeeter and Parma City Council have embraced the nation-wide designation of Small Business Saturday and will continue this year to educate residents about the Saturday after Thanksgiving - the day after Black Friday – and to encourage them to participate.
Small Business Saturday was founded by American Express in 2010 and is celebrated every year on the Saturday after Thanksgiving. The idea is that, even if hard-core bargain hunters insist on shopping on Black Friday, they can also support their local economy on Small Business Saturday. "We all know about Black Friday and Cyber Monday," said Mayor Tim DeGeeter. "We are also confident that if we can get people to come Parma to shop - on Small Business Saturday or any other day - we'll gain long-term customers. We have so many different small businesses here that offer everything from wonderful European bakery items to disc golf supplies."
Throughout November, the Mayor and Council members will distribute Shop Small signs to any small business owner who wants one to place in the store window to indicate that this is a small locally owned business. Many business owners leave up the sign all year round to keep awareness high that small businesses are dependent on local consumers to help keep the local economy strong.
"We've done a good job of raising awareness about Shopping Small," DeGeeter said, "and yes, this is a year-round thing, but we like to take this month to really focus in on helping people understand what a wealth of small businesses we have here. Once they understand that, they'll keep shopping here."
Jeannie Roberts
Communications Director for the City of Parma
Read More on News
Volume 9, Issue 11, Posted 4:49 PM, 11.01.2017