Man Charged In Parma Double Stabbing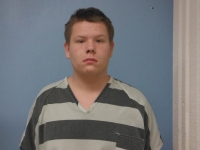 Parma Police have charged the following individual in connection with a double stabbing that occurred last night at a residence located in the 10000 block of Moore Drive in Parma.
Joshua L. Harvey, W/M, age 18, last known address in the 10000 block of Valley Forge Drive in Parma Heights.
Harvey has been charged with two counts of Attempted Murder, a felony of the first degree. He will appear for arraignment tomorrow morning (November 14) in Parma Municipal Court at 11:00am.
Last evening at approximately 9:23pm, Parma Police received a 911 call from a 17 year-old female reporting that someone was trying to kill her and her mother. Police responded to the residence and found Harvey in the driveway of the home with a cut on his right hand. Officers entered the residence and found two female victims, ages 56 and 17, inside the home with multiple stab wounds to the body and severe facial and neck injuries. Officers quickly determined that Harvey was the alleged offender in this incident. The victims told police at the scene that Harvey forced his way into the home and viciously attacked both of them by beating them and stabbing them multiple times. Harvey is the ex-boyfriend of the 17 year-old victim.
Both victims were critically wounded and were transported to Metro Hospital by Parma Fire Department paramedics. Both victims are currently listed in stable condition at Metro Hospital.
Kevin Riley
Captain Kevin Riley- Parma Police Department
Read More on
Volume 9, Issue 11, Posted 4:53 PM, 11.13.2017