Holiday Lights Contest Is Open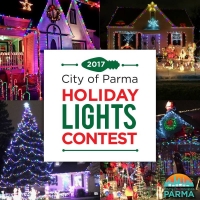 The Young Professionals of Parma have again partnered with the City of Parma to declare the city's best holiday lights. The Young Professionals group has produced a welcome video that includes the contest rules; the video can be viewed on the group's website at www.ParmaYps.com and on the Facebook page of the Young Professionals of Parma and the Facebook page of the City of Parma.
"We are grateful for the members of the Young Professionals group and for their interest in helping with the contest," Mayor Tim DeGeeter said. "There are so many Parma residents who really get in the festive holiday spirit. I can't wait to see who the winners are."
The mayor and everybody else will have to wait until Dec. 23 to learn who won - the Young Professionals and the City will make the announcement on their social media channels. Prizes of $50 Chuppa's gift cards will go to winners in three catgeories - coverage, showmanship and originality - and a $100 gift card to Corleone's Ristorante will be awarded to an overall winner.
Entries consisting of a photo or video of the holiday lights display, along with the name and address of the entrant, must be sent to HolidayLights@ParmaYPs.com by Dec. 17. For complete contest details, visit www.ParmaYPs.com
Jeannie Roberts
Communications Director for the City of Parma
Read More on News
Volume 9, Issue 12, Posted 10:15 AM, 12.01.2017