Robert Oravec Honored With Second Order Of The Towman Award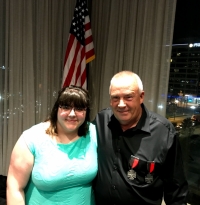 This year will be Robert Oravec's 40th year working at Sirl's Automotive. However, that is not the only achievement that he has had this year. On Saturday, November 18th, Robert was awarded his second Order of the Towman award in Baltimore, Maryland. He was pinned by his daughter, Kristyn Oravec, who was there alongside her mother, Laura Oravec, and close friend, Paige Clark, to witness the momentous occasion. Since Robert already was sworn into the Order of the Towman once, he is considered to be a captain of the order and helps swear in new honorees who are getting their first award.

The Order of the Towman award is one of the highest honors that a Towman can achieve in their career. They are sworn into the order at the American Towman convention and have to take an oath to continue to protect motors and continue to serve their community. Individuals are awarded this prestigious award because the Police or Fire chief nominated them for this award. Gaining an induction into the Order of the Towman is an amazing honor and signifies that these individuals are a step above the rest.
Robert is hard working and extremely dedicated to his job, often putting the needs of others above himself. He is the Towing Manager at Sirl's Automotive, so he oversees the towing division, but he also goes on calls with the rest of his crew. He has often had to miss out on family functions because he was called out to help a disabled motorist and he doesn't have a typical nine to five job. He goes into work in the morning, but the job comes home with him as well. His wife, Laura, will dispatch calls from home after they left the office, and if one of his drivers needs back up with a call, the two of them go out and assist their workers no matter what time of the night it is.

Dedication to the job is something that Robert exemplifies, and he truly does have the passion and drive for his line of work. While this job is often thankless and very demanding because the hours aren't set like other individuals jobs, he wouldn't trade his job for the world. He likes knowing that every call he goes out on he is able to assist someone in need and does his duty proudly without complaint. Robert had an amazing year that was filled with an abundance of achievements, and as we roll into the next year, his same drive and dedication will continue to push him to be an amazing towman and continue to help people who truly need his assistance.






Read More on News
Volume 9, Issue 12, Posted 10:14 AM, 12.01.2017