The Holiday Season is Here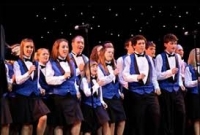 It's the most wonderful time of the year! The holiday season is once again upon us, and what is perhaps most important to all of us is spending time with family and friends. One can't help but be a bit reflective as we get ready to say good-bye to another year and start a new one. It's been an amazingly busy year in the city of Parma Heights and I want to take this opportunity to thank everyone for their assistance and support. I hope during this joyous time you will find something fun to do and experience with your family, and I wish everyone a very Merry Christmas as well as a happy and healthy New Year!
AND THE ANGELS SING…HOLIDAY MUSIC
Cleveland's internationally-known Singing Angels, under the direction of Charles Eversole, will bring their own brand of holiday music to the Cassidy Theatre at 7:30 p.m. Monday, December 4. This has become a holiday tradition for many in our area, and is also a fund-raising event for the Cassidy Theatre. Immediately after the performance, the Singing Angels will be holding auditions for new members, so if you're interested, please come and be prepared to sing. Tickets for this holiday concert are $10, and can be purchased at the Cassidy Theatre Box Office at 6200 Pearl Road, or online at www.cassidytheatre.com
NUNCRACKERS: THE NUNSENSE CHRISTMAS MUSICAL
In Nuncrackers: The Nunsense Christmas Musical, the Reverend Mother has built a public-access television studio in the basement of the convent in order to film a holiday television special. The audience gets a behind-the-scenes look as everyone's favorite nuns, Father Virgil, and four of Mount Saint Helen's most talented students as they prepare for the show. The production features all new songs, including Twelve Days Prior to Christmas, Santa Ain't Comin' to Our House, and We Three Kings of Orient Are Us. The show culminates in a wild spoof of Tchaikovsky's classic ballet. Tickets are available at the Cassidy Theatre Box Office at 6200 Pearl Road, or online at www.cassidytheatre.com.
UKELELE JOY
The Parma Heights Branch of the Cuyahoga County Public Library, with co-sponsors the Friends of the Parma Heights Library, will present a Community Holiday Celebration featuring the Cleveland Fleaharmonics. This program for all ages will take place at 7 p.m. December 5 at the Parma Heights Library. You can listen and sing along with the Cleveland Fleaharmonics, a merry band of players who enjoy spreading ukulele joy across the Greater Cleveland area.
RESOLVING CONFLICTS IN FAMILIES
It is normal to disagree with each other from time to time, and that is certainly true during the holiday season. Occasional conflict is part of family life. However, on-going conflict can be stressful and damaging to relationships. Richard Bonday, M. Ed. will share strategies for managing conflict when it arises in a special program at the Parma Heights branch of the Cuyahoga County Public Library from 7-8 p.m. Monday, December 4. Registration is requested by calling 440.884.2313 or online at www.cuyahogalibrary.org.
HEALTHY EATING
Another program taking place at the Parma Heights branch of the Cuyahoga County Public Library centers on "Healthful Eating." It will take place at 7 p.m. Wednesday, December 13.
Obesity, diabetes, heart disease and cancer are all lifestyle-related diseases. Learn about the connections between diet and health, discuss ways that informed dietary choices can prevent or relieve diseases, and investigate how modern farming and agriculture practices contribute to present-day health concerns.
A GOLDEN ANNIVERSARY
The Cleveland Metroparks Chalet, in the Mill Stream Run Reservation in Strongsville will celebrate its 50th anniversary from Noon until 10:30 p.m. Saturday, December 9. Help the Metroparks celebrate by paying a visit!
EVERYBODY INTO THE POOL
An Open Swim session will be held from 7-9 p.m. every Tuesday in December except the day after Christmas (Tuesday, December 26) at Valley Forge High School, 9999 Independence Boulevard, Parma Heights. The open swim is free. You must be a Parma Heights resident (with proof of residency required, either utility bill or driver's license). If you have questions, call the Parma Heights Recreation Department at 440,884.9606 or email recreation@parmaheightsoh.gov.
YOGA WITH PILATES
Online registration is available through December 21 for Yoga with Pilates classes and Vinyasa Flow Yoga at www.parmaheightsoh.gov. The city of Parma Heights offers the classes on the lower level of the Cassidy Theatre, 6200 Pearl Road.
Yoga with Pilates takes place from 7-8 p.m. January 8—February 26, 2018.
Vinyasa Flow Yoga happens on Thursdays, January 4 through February 22.
Each class is offered for one hour for eight weeks. Cost for each eight-week session, whether Monday or Thursday, is $50. Openings are limited. If you are paying online, credit or debit cards are accepted. If you are paying in person, payment must be either cash or check only.
In-person registrations are accepted from 8:30 a.m. to 4:30 p.m. Monday through Friday at Parma Heights City Hall, 6281 Pearl Road. You must be registered in person no later than December 29, 2017 for the Thursday class sessions or by January 2, 2018 for the Monday class sessions.
For additional information, call 440.884.9606.
Mike Byrne
Michael P. Byrne is the Mayor of Parma Heights, Ohio.
Read More on
Volume 9, Issue 12, Posted 10:14 AM, 12.01.2017