Cuyahoga County Planning Commission Seeks Public Input for Parma City Center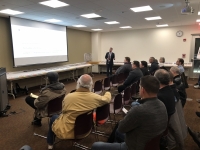 On December 12, the Cuyahoga County Planning Commission held the first of three public meetings regarding the future of the Parma City Center, also referred to as the Crossroads of Parma, in which information was presented and input was solicited.
Those who were unable to make the meeting can still provide their input into the process and have an opportunity to review the information provided via the County Planning presentation and display boards.
The information provided at the first public meeting can be viewed here:
http://www.countyplanning.us/projects/parma-master-plan/
To provide input, the Community Vision Survey can be accessed here:
https://www.surveymonkey.com/r/ParmaPM1
The Community Vision Survey will remain open until December 22.

Stefan P. Stefaniuk
Stefan P. Stefaniuk is the Editor of the Parma Observer. He has been a Parma, Ohio resident since 1982 and enjoyed growing up in Parma's incredible historic downtown neighborhood, now known as Polish Village. After serving five years in the U.S. Navy, he was honorably discharged in 2009 and returned to Parma, where he now resides with his wife and four children.
Read More on News
Volume 9, Issue 12, Posted 12:55 AM, 12.20.2017