Parma's Nicole Vaughn Makes The Most of A Second Chance At Cuyahoga Community College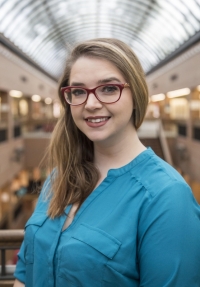 A record number of students graduated from Cuyahoga Community College (Tri-C) at the 2017 Fall Commencement in December, continuing an upward trend of academic achievement. Parma's Nicole Vaughn was among those earning associate degrees. Here is her story:
Failure carried Nicole Vaughn away from Cuyahoga Community College. Determination brought her back. The one-time dropout overcame early academic adversity to earn Associate of Science and Associate of Arts degrees from Tri-C. Vaughn maintained a flawless 4.0 GPA after utilizing the College's Fresh Start program, which offers students grade forgiveness and a second chance.
The 26-year-old Parma resident shared her story of redemption at the 2017 Fall Commencement, where she served as student speaker. "If Tri-C taught me anything," Vaughn said, "it's that you cannot let past failures define you." Vaughn grew up in North Olmsted and attended Polaris Career Center while in high school. After graduation, she struggled to find her focus while bouncing between Northeast Ohio colleges.
Her major shifted from English to education to business accounting to journalism within a few short years. Each left her unfulfilled. Then she hit academic bottom. Vaughn began working at a bank when she first enrolled at Tri-C in 2012. The demands of the job and increased personal responsibilities quickly affected her classwork, resulting in a transcript scarred with F's. She dropped out and decided to focus on work and ascending the corporate ladder. She found success, too, rising to the rank of assistant bank branch manager.
But Vaughn — now married with a young daughter — could not shake her feeling of failure. "Even though I was doing well professionally, I was miserable," Vaughn said. So she built up her courage and returned to Cuyahoga Community College intent on earning a degree. She pushed forward with a support network of family, academic counselors, professors and fellow students. Vaughn discovered her passion for science, which she plans to turn into a new career in health care. She will begin classes at Baldwin Wallace University in the spring to pursue a bachelor's degree in biology with a minor in neuroscience.
Eventually, she plans to attend a master's program to become a physician's assistant. "It has been quite a journey," Vaughn said. "I doubted myself for a long time, but I came back and proved myself in the place where I fared worst. I found out what I am capable of accomplishing. "And let me tell you something: You don't know how good success can taste until you've tasted failure."
John Horton
Media Relations Manager at Cuyahoga Community College
Read More on News
Volume 10, Issue 1, Posted 8:59 PM, 01.02.2018